"Swing Jazz" is Next in America's Music/Film Series
---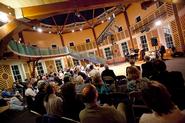 "Swing Jazz" is the theme of the third session in the America's Music film history screenings and musical performances, sponsored by the Kirkland Town Library (KTL) and Hamilton College's Burke Library. All films and performances are free and open to the public.

A performance, World Class Jazz at Fallcoming, will take place on Friday, Sept. 27, at 9 p.m., in the Fillius Events Barn at Hamilton. Admission is free. For the film portion of the jazz series, a clip from Ken Burns' Jazz: Episode 6, "Swing, the Velocity of Celebration" will be shown, followed by a screening of International Sweethearts of Rhythm, on Monday, Sept. 30, at 7 p.m., at the Kirkland Town Library.
In an added event, the documentary film Joe Williams: A Portrait in Song, will be screened at the KTL on Sunday, Oct. 6, at 2 p.m. Monk Rowe, director of the Hamilton College Jazz Archive, will host the event and provide anecdotes about the creation of the film as well as live music relevant to Williams' signature song, "Every Day I Have the Blues." The screening of this rarely shown film is free and open to the public.

KTL and Burke Library were joint recipients of a $2500 National Endowment of the Humanities (NEH) grant to fund a six-week program series of documentary film screenings and scholar-led discussions of 20th century American popular music. KTL and Burke Library are among 50 sites nationwide selected to host this program series.