Kosgei '10 fights flu, places 43rd at NCAA championships
---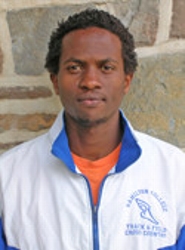 Hamilton College's Peter Kosgei '10 finished 43rd of 276 runners in the NCAA Division III men's cross country championships at Highland Park Golf Course in Cleveland, Ohio, on Nov. 21.
Kosgei completed the 8,000-meter course in 26 minutes, 18.2 seconds. The winner from Lynchburg (Va.) College finished 22.4 seconds ahead of the runner-up in 25:09.8. Kosgei came down with the flu on Friday, and was still feeling its effects on Saturday. He led the entire race until the last mile, when he faded in the final 800 meters.
Kosgei won the individual national title at the 2008 NCAA championships in Hanover, Ind., and finished second in 2007 in Minnesota. He owns a total of nine NCAA titles between cross country and indoor and outdoor track and field.
Kosgei qualified for the event by virtue of finishing first in the NCAA Atlantic regional championships at Letchworth State Park in Mount Morris, N.Y., on Saturday, Nov. 14. He recorded a course-record time of 24 minutes, 40.6 seconds, and earned all-region honors. He has captured three straight individual titles at the regional meet.