Kosgei '10 wins NCAA Division III men's cross country title
---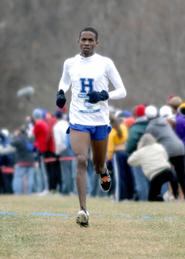 Hamilton College's Peter Kosgei '10 finished in first place at the NCAA Division III men's cross country championship held at Hanover College's L.S. Ayres Athletic Complex in Hanover, Ind., on Nov. 22, and has been named the 2008 NCAA Division III men's cross-country athlete of the year by the U.S. Track & Field and Cross Country Coaches Association.
Kosgei's time of 24:22.03 on the 8,000-meter course was his best this season and allowed him to capture his first cross country national title. He is the first cross country national champion in school history. The next closest runner crossed the finish line in 24:32.67. Kosgei's time is a course record.
Kosgei's previous best time on an 8,000-meter course this fall was 24:39.9 at Hamilton's own invitational on Oct. 11, when he smashed the previous course record by almost 25 seconds. His personal record is 24:18 at the 2007 NCAA Division III Atlantic Regional.
Kosgei has won 19 of 20 cross country races for the Continentals. He finished second at the 2007 NCAA Division III championship. With this year's title, he earns his second straight cross country All-America honor, and his seventh All-America award overall.
Kosgei finished first in all nine races this year, including the NCAA Atlantic Regional, the New England Small College Athletic Conference championship and the New York State Collegiate Track Conference championship -- all in November.
Kosgei is no stranger to the top of the podium, as this is his sixth national title. Kosgei is a two-time outdoor track and field national champion in the steeplechase (2007, 2008) and also bested the field last spring in the 5,000-meter run. Kosgei holds two indoor national titles as well, in the mile and 800-meter run, both in 2008.