Krywosa Presents The Scroll at SUNYCUAD Conference
---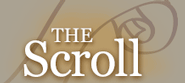 Director of Social Media Jess Krywosa discussed The Scroll at the State University of New York Council for University Advancement (SUNYCUAD) conference held June 5-7 in Melville, N.Y.
Launched in February, The Scroll consolidates personal Twitter, Tumblr and Instagram accounts of Hamilton students, alumni and others in the community, as well as institutional Facebook pages.
In "Unrolling The Scroll: A Home-Grown Social Media Mash-Up," Krywosa talked about social media strategy considerations – choosing appropriate channels for the audience, creating content, choosing a voice and maintaining a high level of conversation and engagement.
She discussed the development of The Scroll as a way to highlight content coming from the Hamilton community and to allow the audience to be the primary content creator and voice.
Krywosa examined the strategy behind The Scroll, how content is being curated, cultivated and maintained, and how research, buy-in and education lead to its creation by Hamilton's Communication and Web Services offices.