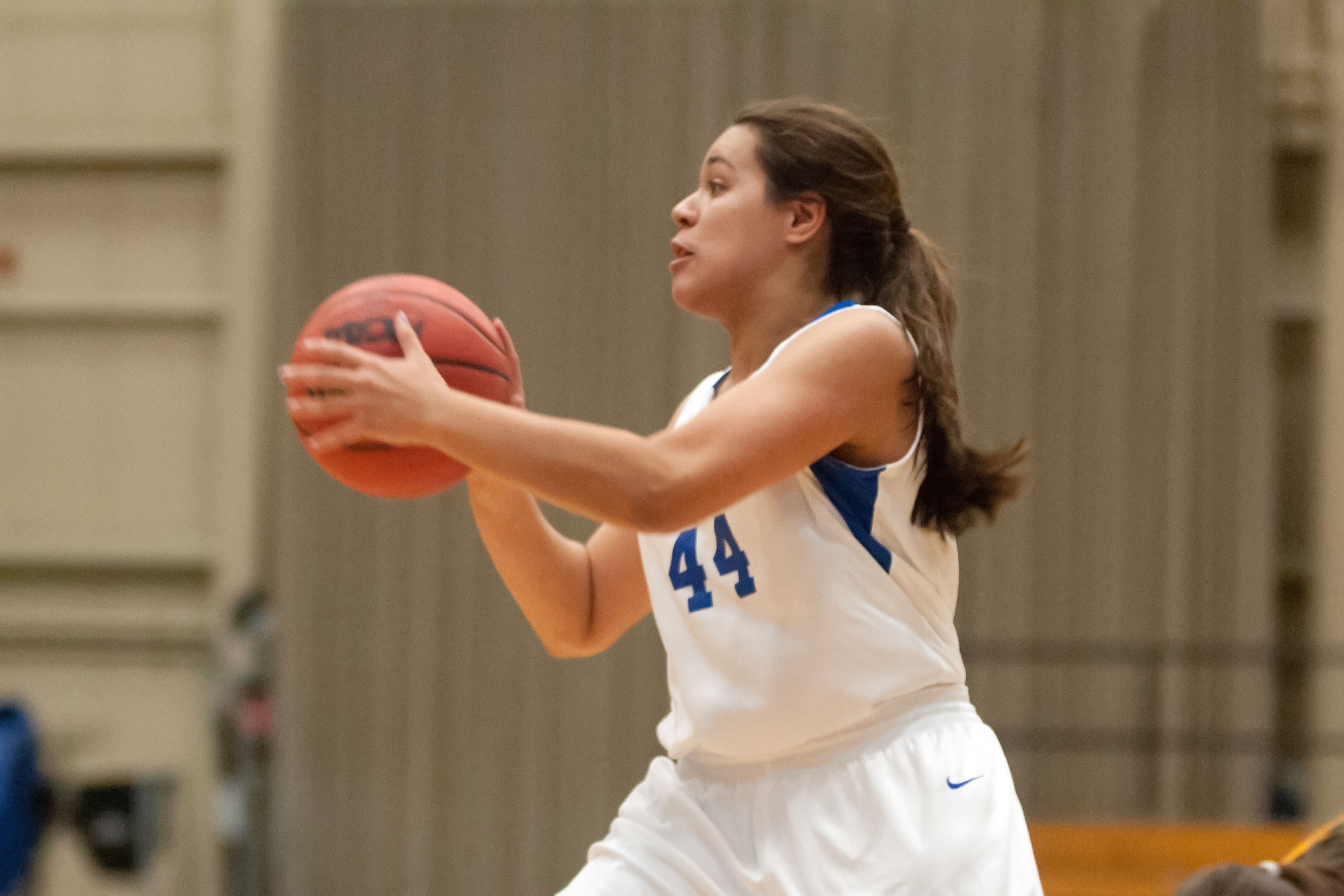 The Hamilton College women's basketball team won their third straight game on Wednesday night, rallying for a 54-52 non-conference win at Union College.

Box score

Samantha Srinivasan '18 completed the comeback for the Continentals (5-3 overall), hitting the game-winning 3-point basket with 24 seconds left.

Union (3-2) rallied from a 43-37 deficit at the 6:51 mark to go up 50-47 with just under two minutes to go. The Continentals tied the score on a free throw by Sam Graber '16 and two more free throws by Srinivasan with a minute left. Cailin Schmeer '16 put the hosts up 52-50 with 45 seconds to go before Graber fed Srinivasan for the go-ahead 3-pointer. Union missed a pair of shots in the final seven seconds and Graber provided the final margin with a free throw with a second remaining.

Srinivasan finished with nine points and five rebounds and led the Continentals with a season-high four assists. Graber scored 13 of her game-high 18 points in the first half as Hamilton took a 30-23 lead into the locker room. She also led the Continentals with eight rebounds and a pair of steals.

Lauren Getman '18 finished with a personal-best 11 points and pulled down five rebounds for Hamilton. Caroline Barrett '17 added seven points for the Continentals, who turned the ball over a season-low 10 times.

The Continentals held Union to 33.3 percent shooting (10-30) in the first half on their way to a nine-point lead with 2:22 left before intermission.

The Dutchwomen opened the second half with a 10-3 run featuring 3-point baskets by Natalie Leone '17 and Jenni Barra '18 to forge a 33-all tie 5:02 in.

A 10-4 Hamilton run gave the visitors a six-point advantage with 6:51 left before Kate Thompson '15 and Barra contributed four points apiece to the Dutchwomen's 13-4 spurt that gave them their biggest lead.

Barra and Thompson led Union with 14 points apiece. Thompson pulled down a game-high 14 rebounds and added three assists and a pair of blocked shots. Schmeer finished with 10 points.

The Continentals' win was their second in three years against Union and raised their lead in the all-time series to 29-25.

Hamilton opens a four-game homestand on Friday, Dec. 5, against Alfred University at 6 p.m.