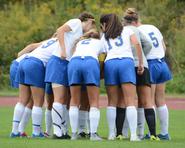 The Hamilton College women's soccer team closed out its first home weekend of the season, losing 2-1 in a non-league game against Rensselaer Polytechnic Institute Sunday at Love Field. The Continentals, who won't play another home game for nearly three weeks, are 0-2-1 on the season.

Box score

Hamilton outshot the visiting Engineers 17-11, including an 11-6 advantage in the second period, but Rensselaer -- who scored a goal in each half -- broke a 1-1 tie with a goal in the 73rd minute.

The Continentals tied the score early in the second half on a long goal by Hannah Withiam '16. Withiam sent a shot from the left side toward the far post and it curved back into the net for her first goal of the season and the seventh of her career.

Rensselaer's Meghan Carlo set up the game winner by gaining possession of a Continental clearing attempt and playing a through ball ahead to Stephanie May, who notched her second goal of the season.

Carlo scored the game's first goal nine minutes before intermission. Hamilton goalkeeper Emily Dumont '18 saved a direct kick but the rebound landed on the ground in front of the goal and after a short scramble, Carlo pushed it to the open left side of the net.

Tori Riopelle, who made a pair of saves for Rensselaer (2-1-2), preserved the tie midway through the second period, coming out of the net to break up a run by Katie Kreider '18. The ball bounced away from both players but a Continental shot by Ali Clarke '17 was blocked by Maddie Steinmetz, leading to an Engineer counterattack that ended with May's goal.

The Continentals kick off a four-game road swing with a pair of NESCAC contests next weekend, playing at Trinity Saturday and Middlebury Sunday.