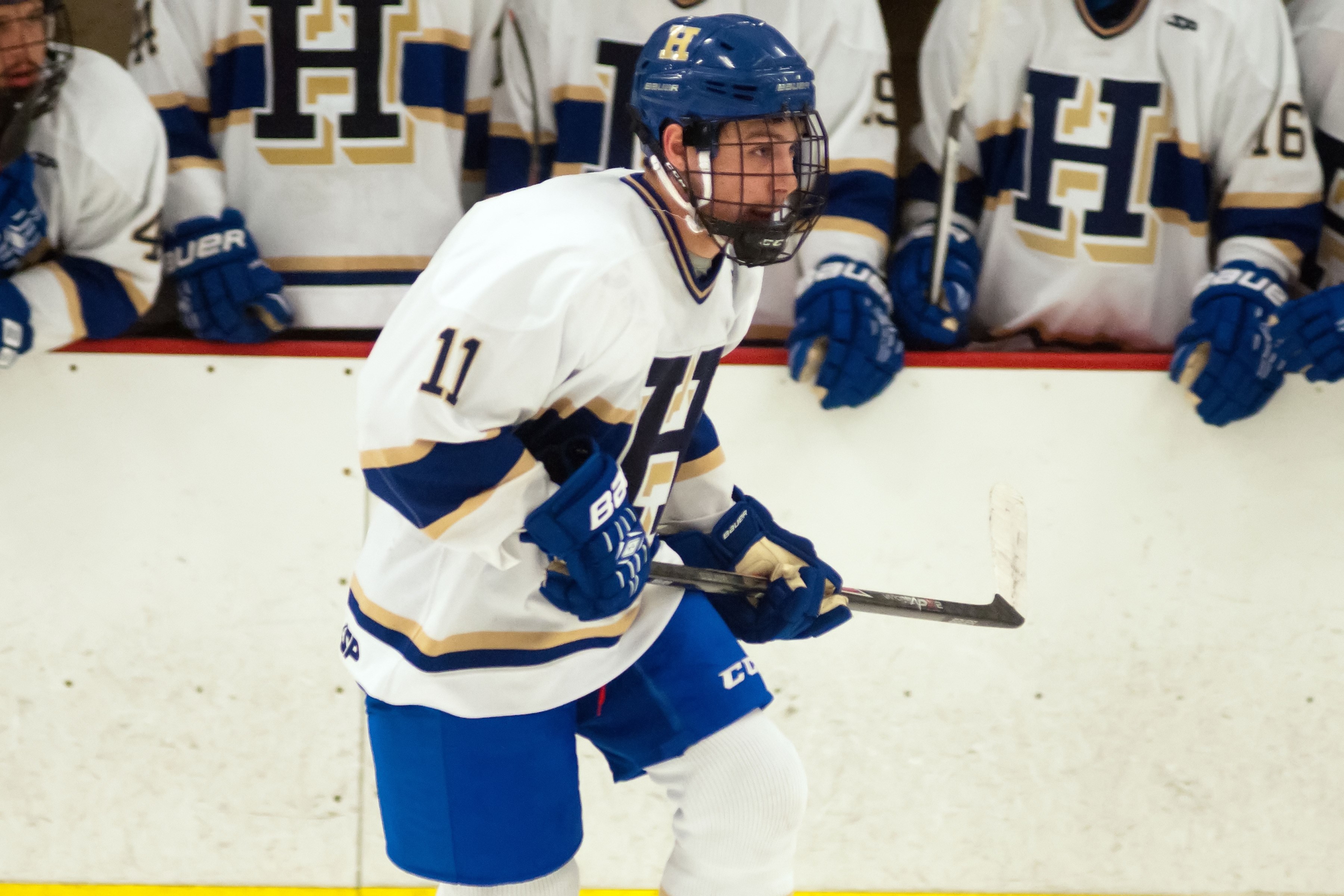 The Hamilton College men's hockey team lost its first home game in five tries on Saturday afternoon, falling 6-1 to nationally ranked No. 3 Trinity College in a NESCAC game at Hamilton's Russell Sage Rink.

Box score

Nine Bantams collected either a goal or an assist on the day and Nathaniel Heilbron '16 stopped Hamilton's first 16 shots on goal, finishing with 18 saves. Trinity outshot the Continentals 61-19.

Robbie Murden '17 spoiled the Trinity shutout, scoring a power-play goal at 11:47 of the third period. Murden has scored five of his 11 goals on the power play this season and he leads the Continentals in both categories. Tyler Bruneteau '18 and Pat Curtis '15 assisted on Murden's goal; Curtis' assist was his 13th, matching Murden for the team lead.

Elie Vered '16 scored two goals and added an assist and Jackson Brewer '15 finished with a goal and two assists to lead Trinity. Both Michael Flynn '15 and Tyler Whitney '18 assisted on a pair of goals.

Zach Arnold '15, who started in goal for Hamilton, stopped Trinity's first 14 shots before the Bantams broke the scoreless tie with a power-play goal by Brewer with 58 seconds left in the opening period. The Bantams scored in the final minute of all three periods.

Vered had a hand in all three of Trinity's second-period goals. He scored the game-winning goal – his second of the winter – with 8:08 left and picked up his second goal of the game 5:34 later. Brewer assisted on both of Vered's goals. Trinity pushed its lead to 4-0 when Ethan Holdaway scored after a scramble in front of the net at the 19:01 mark.

After the Continentals got on the board with Murden's goal, the Bantams needed just 50 seconds to regain their four-goal advantage. Michael Hawkrigg '16 scored his eighth goal of the year with Whitney and Anthony Sabitsky '18 assisting on the play. Sabitsky closed out the scoring, recording a power-play goal with 21 seconds left.

Arnold matched a career high with 41 saves, making 25 – his highest total for a single period – in the second when Trinity outshot Hamilton 28-5. Tim Nowacki '18 played the third period for Hamilton and stopped 14 shots.

The Continentals (7-7-4, 5-5-2 NESCAC) remain alone in fourth place in the NESCAC standings. Trinity (15-2-1, 10-1-1) leads the NESCAC by a game and a half.

Hamilton plays a weekend NESCAC series in Maine next weekend starting with a 7 p.m. game at Bowdoin College on Friday, Feb. 6. Trinity travels to Middlebury College on Friday night.