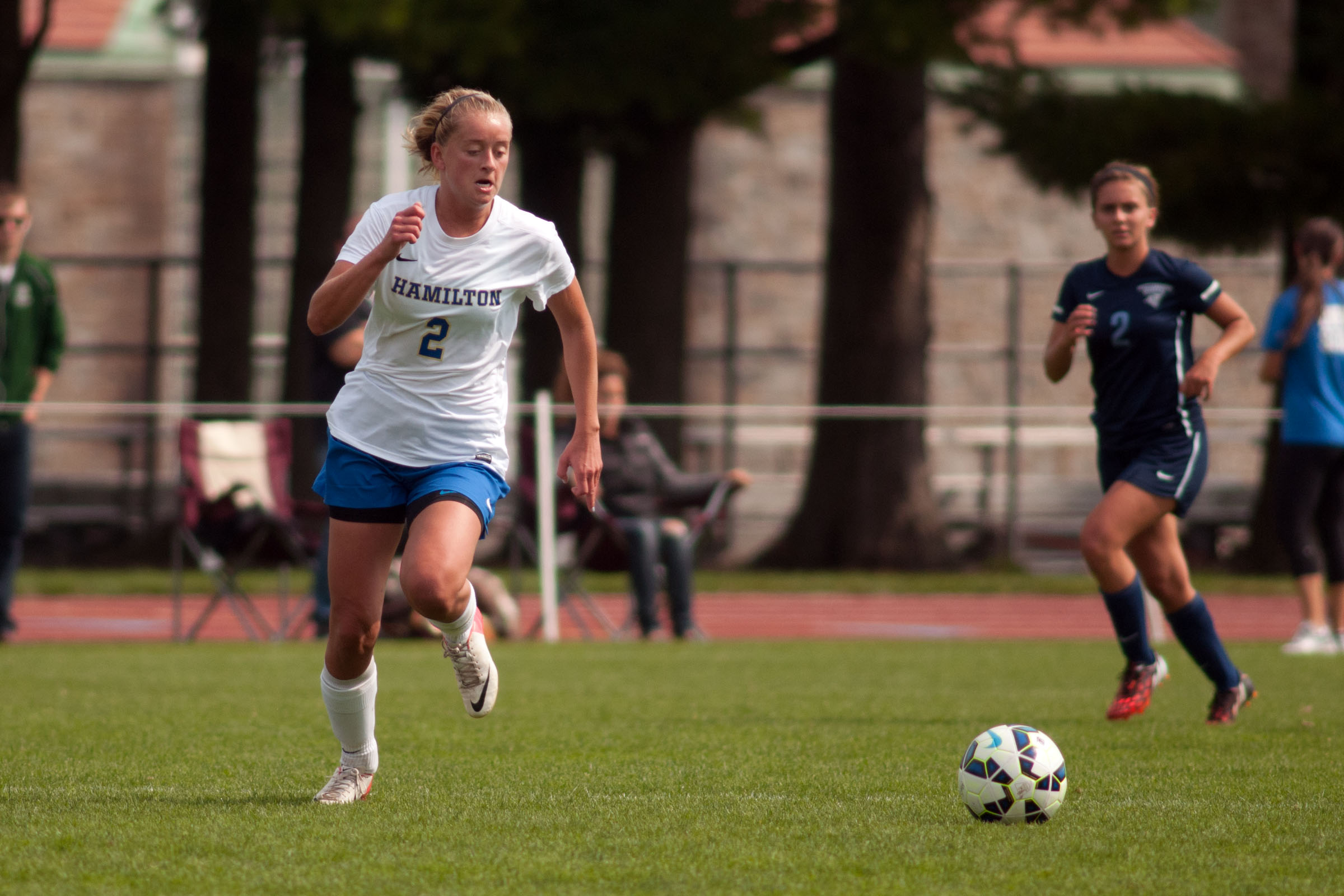 The Hamilton College women's soccer team wrapped up its weekend homestand with a 3-2 loss to Middlebury in a NESCAC game at Love Field on Sunday. The Continentals, who scored twice in the final 12 minutes to pull to within a goal, are now 8-4-0 overall with a 3-4 record in conference play. The Panthers improved to 7-5-0 on the year and 3-4 in the NESCAC.

Box score
The first Continental goal came in the 78th minute, when Bea Blackwell '17 sent a corner kick to the far post. Victoria Freeman '16 headed the ball over the reach of Middlebury goalkeeper Emily Eslinger '18 for her third goal of the season. Seven minutes later Hamilton made it a one-goal game on the first career goal by Darby Philbrick '18. Eslinger made a diving save of a long shot by Rachel Hirsch '15 but the ball squirted off her hands toward the left post where Philbrick tapped in the rebound.

Hamilton had two opportunities at the tying goal in the final three minutes. A shot by Hirsch was blocked in front and Eslinger saved a hard shot by Katja Dunlap '18 with 1:44 left in regulation.

Middlebury scored the only goal of the first half in the 37th minute. Claire Nishioka '17 picked up her third goal of the season, sending a long shot from the right side across the box and past Hamilton's Rachel Cooley '18.

The Panthers added two goals in a three-minute span in the second half. Moments after Cooley punched a long free kick by Jamie Soroka '16 out of a crowd, Soroka regained possession and sent a cross from the left sideline to the right post where two Panthers were converging. Amy Martin '17 collected the ball, cut inside and sent it into the middle of the net.

Three minutes later, Carter Talgo '15 played a ball forward from the top of the box and was rewarded with her second goal of the season when the ball went past a charging Cooley.

The Continentals had two good scoring opportunities late in the opening period. In the 27th minute a long pass from Blackwell to the near post was just outside the reach of Katie Kreider '18 and was gathered by Eslinger. Six minutes later Kreider's pass to the far post eluded a charging Blackwell and rolled over the end line. Hamilton was outshot 12-7.

Hamilton returns to action on Saturday, Oct. 18, playing an 11 a.m. game at Colby. The Panthers host Bates on Saturday.