Late rally leads Wesleyan to men's basketball win
---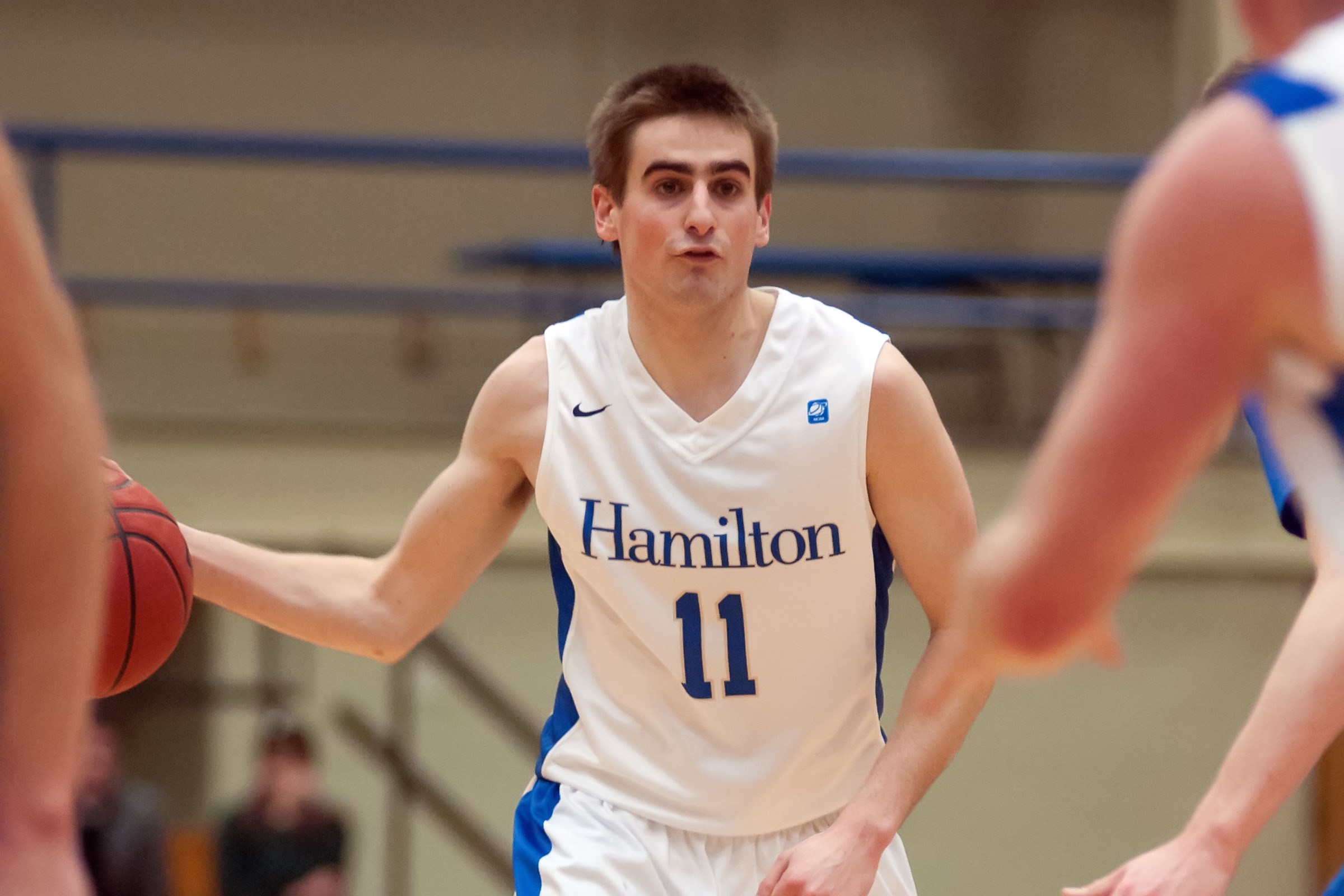 The Hamilton College Continentals' four-game winning streak ended as the Wesleyan University Cardinals scored four points in the last 23 seconds and rallied for a 63-60 NESCAC win at Wesleyan's Silloway Gym on Friday night.

Box score

Despite the loss, the Continentals (13-10, 4-5 NESCAC) clinched a spot in the 2014 NESCAC championship. Hamilton will play in the quarterfinals on Saturday, Feb. 22, at an opponent to be determined. The Continentals are tied for sixth place in the conference standings with one game left.

The Cardinals (11-12, 4-5) scored the game-winning basket with 23 seconds left, thwarting a Hamilton comeback in which the Continentals scored seven points in just 47 seconds and erased a 59-53 deficit.

Matt Hart '16 connected on a 3-point basket with 1:35 to go and Hamilton forced turnovers on the next two Wesleyan possessions. Greg Newton '14 followed both with a basket, culminating in a 60-59 Continental advantage with 48 seconds remaining. Rashid Epps '16 scored the game winner for Wesleyan 24 seconds later. Joe Edmonds '16 rebounded a Hamilton miss that would have put the Continentals ahead and then sank two free throws for the final margin.

Hart, who leads the NESCAC in scoring with 20.7 points per game, led Hamilton with 17 and six assists. Newton finished with 11 points and four assists. Peter Kazickas '15, whose steal set up Newton's basket that gave the Continentals their final lead, contributed 13 points off the bench, including 11 in the second half. Jack Donnelly '16 scored seven points and led the team with six rebounds.

Wesleyan led by as many as 12 points early in the second half. Hamilton's late rally put the Continentals ahead for the first time since the game's first two minutes.

BJ Davis '16 led all players with 19 points, making 7 of 11 shots from the floor for Wesleyan. Epps scored 11 points and Jack Mackey '16 added 10, including a 3-pointer to open the second half that stretched the Cardinals' lead to a game-high 12. Epps, Mackey and Joseph Kuo '17 each pulled down six rebounds and Kuo led the Cardinals with four steals.

Hamilton plays its final regular-season game at Connecticut College on Saturday at 4 p.m. The Cardinals host nationally ranked No. 8 Williams College on Saturday afternoon.