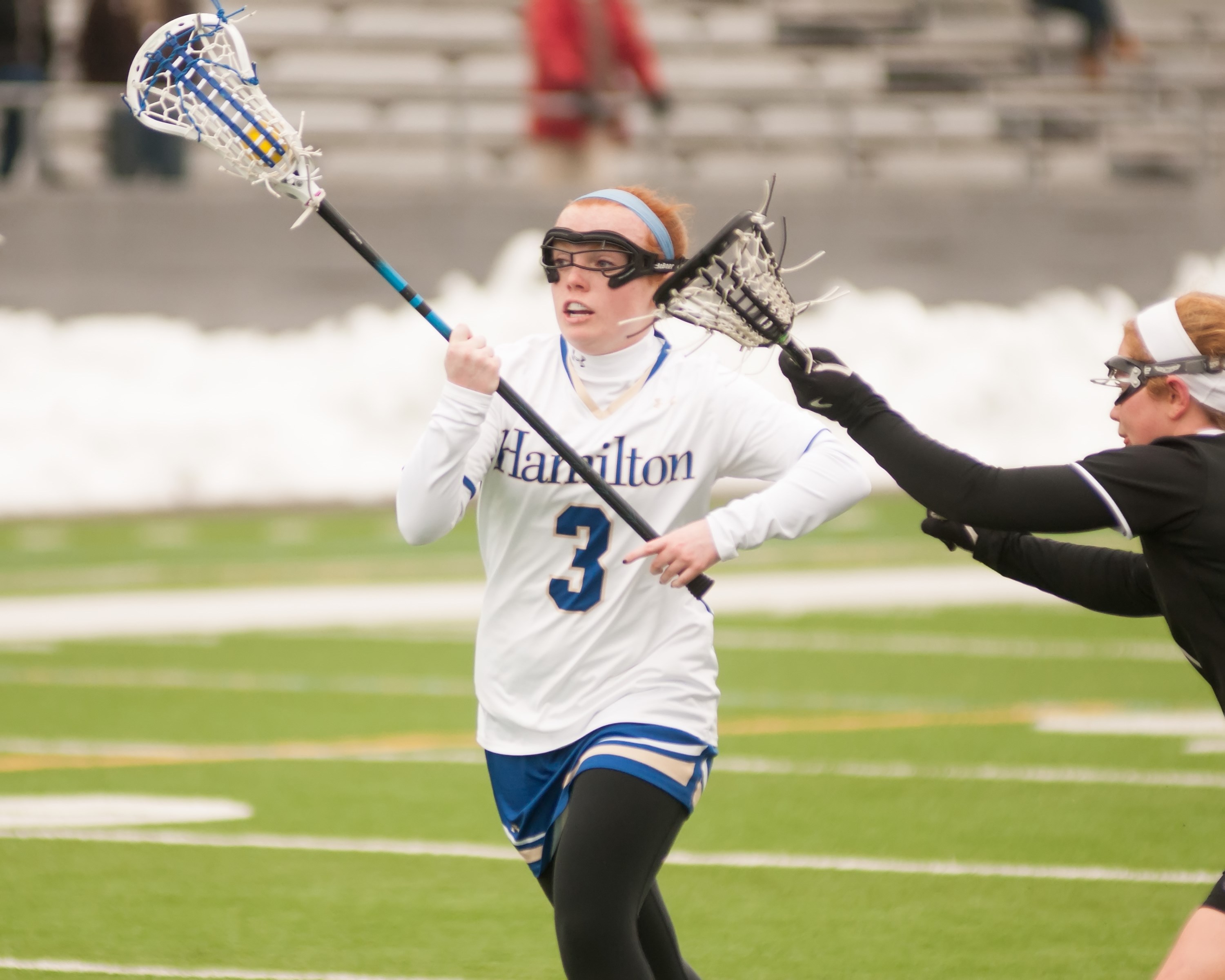 The nationally ranked No. 15 Hamilton College women's lacrosse team scored the game's last six goals to claim an 11-6 non-conference win over Keene State College on Wednesday in Clermont, Fla.

Box score

Taylor Ryan '17 scored two of her career-high four goals during the decisive run, which covered the final 20:15.

Morgan Fletcher '17 recorded a career-best three goals and Caroline McCarthy '16 added three points for Hamilton, which outshot the Owls 38-13.

After Keene State scored the first three goals of the second half to take a 6-5 lead with 22:38 remaining, the Continentals (4-1 overall) started their comeback 2:23 later on Ryan's second free-position goal of the game. Margaret Gabriel '16 put Hamilton ahead to stay four minutes later.

Ryan, Fletcher, McCarthy and Casey File '17 each converted a free-position shot to close out the game. The Continentals were successful on all six of their free-position shots; on the season they've scored 17 of their 44 goals on free-position opportunities.

Kari Koga '15 made her first appearance of the season in goal for Hamilton, playing the second half and earning the win with a pair of saves.

Kaitlin Nolan '16 led Keene State (0-7) with three points. She scored the Owls' first two goals after Ryan and McCarthy netted goals 26 seconds apart to put Hamilton up 2-0. After Fletcher broke the tie with the first of her three goals, Nolan fed Taylor Graf '17 for a goal to pull Keene State into another tie.

After Ryan's goal with 20 seconds left in the half sent Hamilton into intermission with a 5-3 advantage, the Owls scored on their first three shots of the second period. Polly Grey '15 started the stretch, Graf netted the tying goal and then assisted on a goal by Jenna Bellano '17 that gave Keene State its final lead.

Gabriel led Hamilton with four ground balls and a pair of caused turnovers. File, Koga and Hattie Duke '18 picked up three ground balls each.

Allison Argiro '17 made 15 saves in goal and led all players with 10 ground balls.

The Continentals return to conference play on Saturday, March 21, traveling to No. 7 Amherst College for a match-up between nationally ranked NESCAC opponents. Game time against the Lord Jeffs is noon.