Lauren Howe '13 Presents Co-Authored Paper at CAFS Conference
---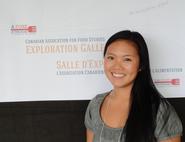 Lauren Howe '13 presented a paper she co-authored with Morgan Osborn '14 and Katrina Keay '14 at the Canadian Association for Food Studies (CAFS) 2012 Conference on May 26. They wrote the paper, "Let's Dig In! Adirondack Food Culture Through the Ages," for Professor Robin Kinnel's Adirondack seminar (ES 220 Culture and Natural History of the Adirondacks).
The CAFS 2012 Conference is in conjunction with the 2012 Congress of the Humanities and Social Sciences and was held at Wilfred Laurier University and University of Waterloo in Waterloo, Ontario. More than 6,000 people were registered for the Congress of Humanities and Social Sciences and 185 were registered for the CAFS conference. Howe was one of the few undergraduates in attendance among mostly master's and Ph.D. students and professionals in the field of food studies.

Howe received a travel stipend from the Kirkland Endowment Advisory Committee (KEAC) to make the trip possible.