Let the Reunions Begin!
---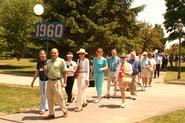 Hamilton College will welcome back nearly 1200 alumni and their guests when it hosts its annual Reunion Weekend, this year on Thursday-Sunday, June 3-6. A special welcome is extended to members of the class of 1960 who are celebrating their 50th reunion. A full schedule of events will keep attendees busy through a weekend that promises pleasant weather.

Alumni can kick off the weekend by participating in the annual Carter Cup and Winton Tolles Golf Tournament, on Friday, June 4, at the Yahnundasis Golf Club with a 7:45 a.m. shotgun start.

The always popular Alumni Colleges will offer a variety of topics sure to interest everyone. Writers from the class of 1980, Damian Slattery, Sandy Gingras and Mark T. Sullivan, will explore the highs, lows and in-betweens of the professional writing life on Friday at 1 p.m. in Science Center room G042. Join Richard Bernstein '80, CEO of Richard Bernstein Capital Management LLC for advice on "Investment Strategies for the next 20 years," on Friday at 2:30 p.m. in the Kennedy Auditorium, also in the Science Center. Pastry Chef Stephen Durfee' 85 will present "Life on a Dessert Island" at 2:30 p.m. in McEwen Dining Hall, and University of Texas at Dallas Professor Stephen Rabe '70 will share his teachings on the Vietnam War at 2:30 p.m. in the Science Center room G041.

Auto Club Speedway president Gillian Zucker '90 will provide a behind the scenes view of NASCAR at 4:30 p.m. in KJ's Red Pit, and a group of alumni panelists will share stories from the trenches in "Lessons from Accidental Entrepreneurs" at 4 p.m. in the KJ Aud.

Saturday's highlights include a state of the college address from President Joan Hinde Stewart at 2 p.m. in the Chapel, the annual Long Run (cross country fun run), and the third annual bicycle ride through the Mohawk Valley.

Saturday's 4 p.m. Alumni Colleges include "All that Jazz" with writer/jazz producer Greg Thomas '85 and documentarian Carol Bash '85, and Laura Wilder '80 discussing "Dog Portraits and Teenage Mutant Ninja Turtles…How I came to be" in KJ 203.

On Saturday evening Steak Nite, a band formed at the college in 1972, returns to the hill for a concert at 10 p.m. in Soper Hall of Commons.

Also during the weekend, celebrate at class dinners, hold class meetings and participate in a Service of Remembrance for deceased alumni.