Levitt Center Receives Community Foundation Rust to Green Grant
---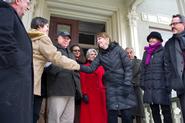 The Levitt Center under the umbrella of Rust to Green, Utica, has received a grant for $21,200 from the Community Foundation of Herkimer and Oneida Counties, Inc., to support a research group to study the refugee population in Utica and its unique potential to be a driver of economic development. Hamilton President Joan Hinde Stewart accepted a check on behalf of the College on Dec. 14 at the Green Century Building in downtown Utica.
The research will be overseen by Visiting Assistant Professor of Sociology George Hobor and the grant will include funding for five Rust to Green Civic Research fellows. Cornell University also received a separate grant under the same umbrella.
The Hamilton-based research will consider three main themes: the economic integration of refugees; positive and negative factors affecting that integration; and spillover effects of refugee integration.
The data will then be analyzed, and appropriate strategies will be developed to capitalize on the assets and opportunities. These types of "LEADS," or Local Economic Alternative Development Strategies, have a demonstrated effectiveness in helping struggling cities nationwide reverse economic decline. Research has shown these smaller forms of development can become larger resources for citywide change, if supported.
Professor Hobor is an expert in the economic transformation of cities in the "Rust Belt" region of the United States. He has conducted research on cities in the struggling Upstate region for the last six years, and is currently writing a book about his efforts.
The Levitt Center has been involved with the Rust to Green project almost from its inception. Chris Willemsen, assistant director of the Levitt Center, sits on the Rust to Green Core Coordinating group and has been actively involved in Rust to Green initiatives. The Levitt Center funded a Rust to Green faculty-student research group this past summer, and has also assisted other students and faculty interested in working on Rust to Green related research projects.
"We're excited about the potential for this collaboration between Cornell University, The Community Foundation, The City of Utica and Hamilton College. It's exactly the kind of project that has the potential to benefit both our students and faculty, as well as the community at large," said Willemsen.
The establishment of this research project was inspired in part by the Community Foundation's own initiative, titled Herkimer-Oneida Indicators, which collects statistics about 10 conditions or "indicators"' in the two Upstate New York counties.
"Rust to Green's research goals echo the Community Foundation's long-range approach, and we're pleased to play a role in their efforts," said Peggy O'Shea, president and CEO of The Community Foundation of Herkimer and Oneida Counties.
The Levitt Center is launching a new initiative to fund student-faculty research groups including but not limited to those involved in the Rust to Green program. In addition to actively seeking outside funding, the Levitt Council has reallocated funds to support research groups focused on field research or original analysis of existing data. More information on the Levitt Research Group Grant Funding can be found on the Levitt Center website.
Further information about Rust to Green and its work is available at www.rust2green.org, or on Facebook at Rust To Green Utica.