Liberty League men's basketball tournament preview
---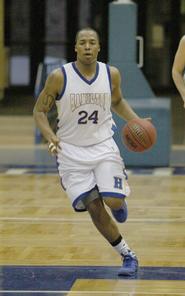 Hamilton College travels to St. Lawrence University this weekend for the four-team 2009 Liberty League men's basketball championship tournament.
No. 2 seed Hamilton has made the finals of this tournament in each of the last six years. The Continentals face No. 3 Rensselaer in one semifinal on Friday, Feb. 27, at 6 p.m.
Hamilton and host St. Lawrence finished the regular season with identical 12-2 league records. However, the Saints earned the No. 1 seed because they won both meetings with the Continentals this season. St. Lawrence takes on No. 4 Clarkson University in the other semifinal at approximately 8 p.m.
The winners of the two semifinal games meet in the championship game at St. Lawrence on Saturday, Feb. 28, at 3 p.m. The winner of that contest receives the league's automatic bid to the NCAA Division III championship tournament.
Admission is free, but if you can't make it to Canton, N.Y., live statistics and a live webcast should be available. The webcast costs $7 per game. A capsule look at the four teams is listed below.
No. 1 seed ST. LAWRENCE UNIVERSITY
Overall record: 19-5
League record (finish): 12-2 (Tied-1st place)
Regional ranking: 2nd in East Region
Head coach: Chris Downs, 12th season at St. Lawrence, 199-117 record
League tournament appearances: Ninth
League tournament titles: One (2007)
League tournament record: 4-7
2008-09 results vs. Clarkson: W, 93-62 (Jan. 20 at home); W, 82-75 (Feb. 3 at Clarkson)
Record at home: 8-2
Points per game: 84.6
Points allowed per game: 76.6
Scoring leaders: Tom Wopperer '09 (16.5 ppg), Richard Williams '09 (11.7)
Rebounding leaders: Williams (6.7 rpg), Garrett Sharlow '12 (6.6)
Assist leaders: Josh Sharlow '10 (129), Wopperer (53)
Three-point shooting leaders: Wopperer (54 of 154), Garrett Sharlow (36 of 94)
No. 2 seed HAMILTON COLLEGE
Overall record: 18-6
League record (finish): 12-2 (Tied-1st place)
Regional ranking: 3rd in East Region
Head coach: Tobin Anderson, 5th season at Hamilton, 92-38 record (159-106 overall)
League tournament appearances: Tenth
League tournament titles: Four (2000, 2003, 2004, 2006)
League tournament record: 12-5
2008-09 results vs. Rensselaer: W, 67-60 (Jan. 17 at home); W, 73-68 (Feb. 6 at RPI)
Road/Neutral Record: 8-4
Points per game: 68.8
Points allowed per game: 64.6
Scoring leaders: Harlee Wood '09 (13.3 ppg), Patrick Sullivan '12 (12.3)
Rebounding leaders: Wood (7.8 rpg), Sullivan (5.1)
Assist leaders: Lance Wilson '11 (77), Wood (50)
Three-point shooting leaders: Ephraim McDowell '12 (47 of 115), Jay Simpson '10 (24 of 69)
No. 3 seed RENSSELAER
Overall record: 13-12
League record (finish): 7-7 (3rd place)
Head coach: Mike Griffin, 24th season at RPI, 305-300 record (373-431 overall)
League tournament appearances: Sixth
League tournament titles: None
League tournament record: 5-5
2008-09 results vs. Hamilton: L, 67-60 (Jan. 17 at Hamilton); L, 73-68 (Feb. 6 at home)
Road/Neutral Record: 7-8
Points per game: 69.9
Points allowed per game: 65.8
Scoring leaders: Sam Simmons '09 (18.2 ppg), Tim Rupp '10 (10.5)
Rebounding leaders: Simmons (8.2 rpg), Ricky Philatre '10 (7.3)
Assist leaders: Rupp (54), Simmons (41)
Three-point shooting leaders: Rupp (38 of 106), Mike Brion '11 (26 of 83)
No. 4 seed CLARKSON UNIVERSITY
Overall record: 15-10
League record (finish): 6-8 (4th place)
Head coach: Adam Stockwell, 5th season at Clarkson, 52-77 record
League tournament appearances: Sixth
League tournament titles: One (2008)
League tournament record: 2-4
2008-09 results vs. St. Lawrence: L, 93-62 (Jan. 20 at St. Lawrence); L, 82-75 (Feb. 3 at home)
Road/Neutral Record: 5-6
Points per game: 67.4
Points allowed per game: 66.0
Scoring leaders: Brandon Linton '10 (13.1 ppg), Brian Salanger '09 (9.3)
Rebounding leaders: George Koduah '11 (6.6rpg), Keith Murray '10 (5.3)
Assist leaders: Linton (119), Murray (49)
Three-point shooting leaders: Salanger (52 of 149), Murray (30 of 80)