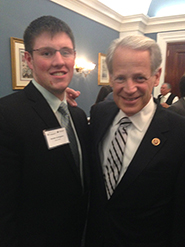 This summer Brendan Cunningham '15 is interning with the re-election campaign for Rep. Steve Israel of New York's 3rd Congressional District on Long Island. Israel has served in the House of Representatives since 2001 and currently chairs the Democratic Congressional Campaign Committee. Cunningham received assistance for his internship through the Summer Internship Support Fund, managed by the Career Center.
Cunningham's major responsibility as an intern is 'voter contact,' which requires him to canvass registered voters by knocking on doors and making phone calls. As Cunningham noted, his door-to-door canvassing has made for a number of good stories. "I had a voter tell me that he wanted 'all Democrats taken out, shot, and hung,' so it goes without saying that we probably won't have his vote in November. I also had an ordeal with a Pomeranian named 'Cocoa' who dashed out of the front door as soon as the owner opened it. I helped get the dog out of the street, and the voter said he'd vote for Steve since I was such a 'helpful young man.'"
As part of Hamilton's Washington D.C. Program, Cunningham interned at The Humane Society of the United States (HSUS) last semester, where he learned a lot about passing legislation through Congress from a lobbyist's point of view. His internship this summer, on the other hand, gives him exposure to the Congressional perspective of the legislative process. As Cunningham explained, "After working on the lobbying side of the political process for four months, I decided that it would be a good idea for me to broaden my skill set by working on the Congressional side."
Cunningham's primary goal for his internship, however, is to learn more about campaign strategy. "I've learned just how much work goes into running a successful campaign, and again, this revolves around mobilizing support through voter contact," Cunningham stated. "Contrary to popular belief, every vote truly counts."
Cunningham hopes to return to Washington D.C. after graduation next spring, where he says he would love to work on Capitol Hill for a few years. Ultimately, Cunningham hopes to run for public office or find a career in nonprofit lobbying.
Brendan Cunningham is a graduate of Babylon High School, NY.