Livsey '12 Presents Poster at Geological Society Meeting
---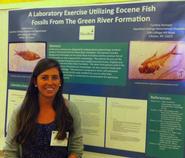 Caitlin Livsey, a senior geosciences major, presented a poster at the 47th Geological Society of America, Northeast Section meeting held March 18-20 in Hartford, Conn.
The meeting was hosted by the Center for Integrative Geosciences at the University of Connecticut, the Department of Physics and Earth Sciences at Central Connecticut State University, the Science Division at Middlesex Community College, and the Connecticut Geological Survey, Department of Energy and Environmental Protection.
The meeting brought together diverse studies in basic and applied geology that build on the rich history of geologic thought in the region and highlight new directions for the future of the science.
The title of Livsey's poster was "A Laboratory Exercise Utilizing Eocene Fish Fossils From the Green River Formation." The work presented was based on her senior thesis with Professor of Geosciences Cynthia Domack.