Local Media Coverage of Hamilton in 2010
---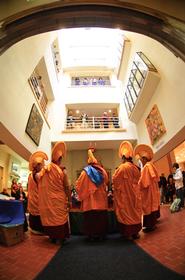 People and events at Hamilton drew much interest from local media during 2010. Students and faculty were the subjects of several feature articles in local newspapers, and a number of public events on campus brought positive media attention to the College. Local stories about Hamilton in 2010, included:
In March, Phyllis Breland '80, director of Opportunity Programs and Access Pathways, wrote an opinion piece for the Utica Observer-Dispatch, in which she requested that New York Governor David Paterson restore full funding to HEOP and TAP.
Also in March, Associate Professor of Economics Stephen Wu, who co-authored a study on quality of life and happiness, was interviewed by the Syracuse Post-Standard about his happiness as a resident of New York, the unhappiest state according to the report.
In a March article titled "Student athletes smashing the stereotypes," the Utica Observer-Dispatch featured Hamilton scholar-athletes. Athletic Director Jon Hind and Joe Buicko, captain of the hockey team who also plays baseball, were interviewed.
Terry Hawkridge, assistant director of grounds, horticulture and arboretum, was interviewed in April by the Observer-Dispatch about Root Glen in bloom. He was featured in a print article and video on the newspaper's website.
Jason Mariasis '12 was highlighted in a May Observer-Dispatch article about his founding of Hamilton's Entrepreneur Club. He and other members of the club created www.getmytextbooks.org, a website aimed at reducing the cost of college textbooks.
Also in May, Women's Lacrosse Coach Patty Kloidt was the subject of an Observer-Dispatch article about her success in guiding the Continentals to postseason competition.
Recent graduate and Utica resident Nedzada Smajic '10 was featured in an Observer-Dispatch commencement article. The story described her evolution from Bosnia to her graduation from Hamilton.
Eugene Domack, the J.W. Johnson Family Professor of Geoscience, spoke about Antarctica and climate change, among other topics, on Campbell Conversations, a WRVO, (Central New York public radio) show, on June 4.
WKTV featured the Clinton fire department's new ladder truck, purchased with a $250,000 gift from Hamilton, in several broadcasts on June 8 when the truck visited campus. The story also appeared in the Rome Sentinel.
Professor of Music Samuel Pellman was featured in a Syracuse Post-Standard article about his electro-acoustic compositions inspired by images from space.
Kino Ruth, director of the Career Center, offered his expertise in an August Observer-Dispatch article about obstacles faced by recent graduates trying to find a job.
In September, the Observer-Dispatch interviewed Professor of Music Michael "Doc" Woods about his newest works and what inspires him.
Bon Appétit Management Company, Hamilton's food service provider, hosted the 6th annual Eat Local Challenge, a made-from-scratch meal relying solely on local ingredients, on Sept. 28. The Observer-Dispatch highlighted the Eat Local Challenge in a front-page article with photographs, in a column about local food and in an editorial praising Hamilton's commitment to providing local food for its students.
An exhibit at the Emerson Gallery in October received much media attention. Nine Buddhist monks from the Gaden Shartse Monastery in Southern India performed an opening consecration ceremony of sacred dance and chanting in the Emerson Gallery atrium before beginning their creation of a sand mandala of compassion. Your News Now (YNN), Mohawk Valley Living and the Observer-Dispatch provided extensive coverage of the three-day event.
In October, Professor of Government Philip Klinkner was interviewed about the New York congressional races for a report heard on Northeast Public Radio and North Country Public Radio. On election night Klinkner was a guest on WIBX radio, where he participated throughout the evening as an expert analyst and commentator as election results were reported for local and national races.
Former Secretary of State Condoleezza Rice visited Hamilton on Nov. 1 as guest speaker in the Sacerdote Great Names series. Her talk was covered by the Syracuse Post-Standard, WKTV, WIBX and the Utica Observer-Dispatch.