Local Media Coverage of Hamilton in 2011
---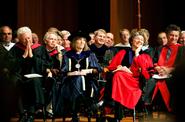 People and events at Hamilton drew much interest from local media during 2011. The celebration of Hamilton's Bicentennial garnered significant attention, student volunteering was the subject of positive news stories and editorials, and faculty members offered expertise on timely news topics throughout the year.

Community service received media notice in January, as Hamilton's 13th annual Martin Luther King Jr. Day of Service was reported on by the Utica Observer-Dispatch (OD), and on WKTV, the local NBC affiliate. The men's basketball team's visit to the House of Good Shepherd was also featured in the OD. The newspaper commended Hamilton's service-minded students for their community contributions in an editorial later that month.

In March The Syracuse Post Standard article, "Three kinds of portraits – Emerson Gallery exhibit contrasts different styles with stunning results," highlighted the Gallery's trio of exhibitions that featured eccentric views of men and women.

In April, Watson Fellowship recipient Mary Phillips '11 was also featured in the Post-Standard, her hometown newspaper. The article described her project to explore women's rights around the world and plans to travel to Guatemala, Ethiopia, India and South Africa to conduct research on the topic.

Hamilton's May 22 commencement with speaker Al Gore received local and national media coverage. Local media covering the former vice president's commencement address included WSYR (ABC affiliate – Syracuse), WKTV, the OD, Your News Now, and The Syracuse Post Standard. In addition the Utica OD published a feature story titled "Hamilton commencement has special meaning to two graduates." Valedictorian Yuanxin Zhu's '11 powerful commencement address was highlighted, as was support demonstrated for NCAA champion Peter Kosgei '11 who managed to graduate and walk across stage despite injuries from a brutal attack earlier in the year in Kenya.

Hamilton's Town-Gown Fund reached its $1million goal in June and was featured in a story in the Observer-Dispatch. As of June 15, the fund had received gifts from 450 individuals and businesses totaling $1,005,351 since it was established in 2001.

In July many national and local news organizations reported on the $16 million commitment made by Edward '46 and Virginia Taylor to Hamilton, the College's largest single donation ever. Locally the news was reported in the Utica OD, The Syracuse Post-Standard and on WKTV.

Local media turned to Hamilton faculty for expert commentary on a number of topics. Economics Professor Ann Owen discussed fluctuations in consumer confidence for an OD article; geoscientist Todd Rayne and chemistry professor Ian Rosenstein were interviewed on WUTR about a New York State DEC report on hydrofracking; and sociologist Jenny Irons discussed how people categorize race for an article in the OD.
Biologist Ernest Williams talked about invasive species in New York; music professor Michael "Doc" Woods penned a guest column for the OD about the cultural statement he hoped to make with his music; and historians Chad Williams and Maurice Isserman discussed president Abraham Lincoln's visit to Utica in 1861 on the eve of a civil war expert's campus lecture.
Anthropologist Nathan Goodale's class "Archaeology of Hamilton's founding" was the focus of a broadcast on WKTV, and the ninth F.I.L.M. series and its founder visiting professor of art history Scott MacDonald were featured on the front page of the Observer-Dispatch living section.

Hamilton Serves, the orientation week volunteer program for first-year students, was featured on WKTV and in the Rome Sentinel and Observer-Dispatch in August.

Bicentennial Kickoff Weekend in September was the focus of many local news features. Stories on the weekend's events were featured on WKTV, WUTR, and in The Syracuse Post-Standard, the Utica OD and Rome Sentinel. On the Hill, the bicentennial history of the college book by Maurice Isserman, and the naming of the Taylor Science Center were also reported.