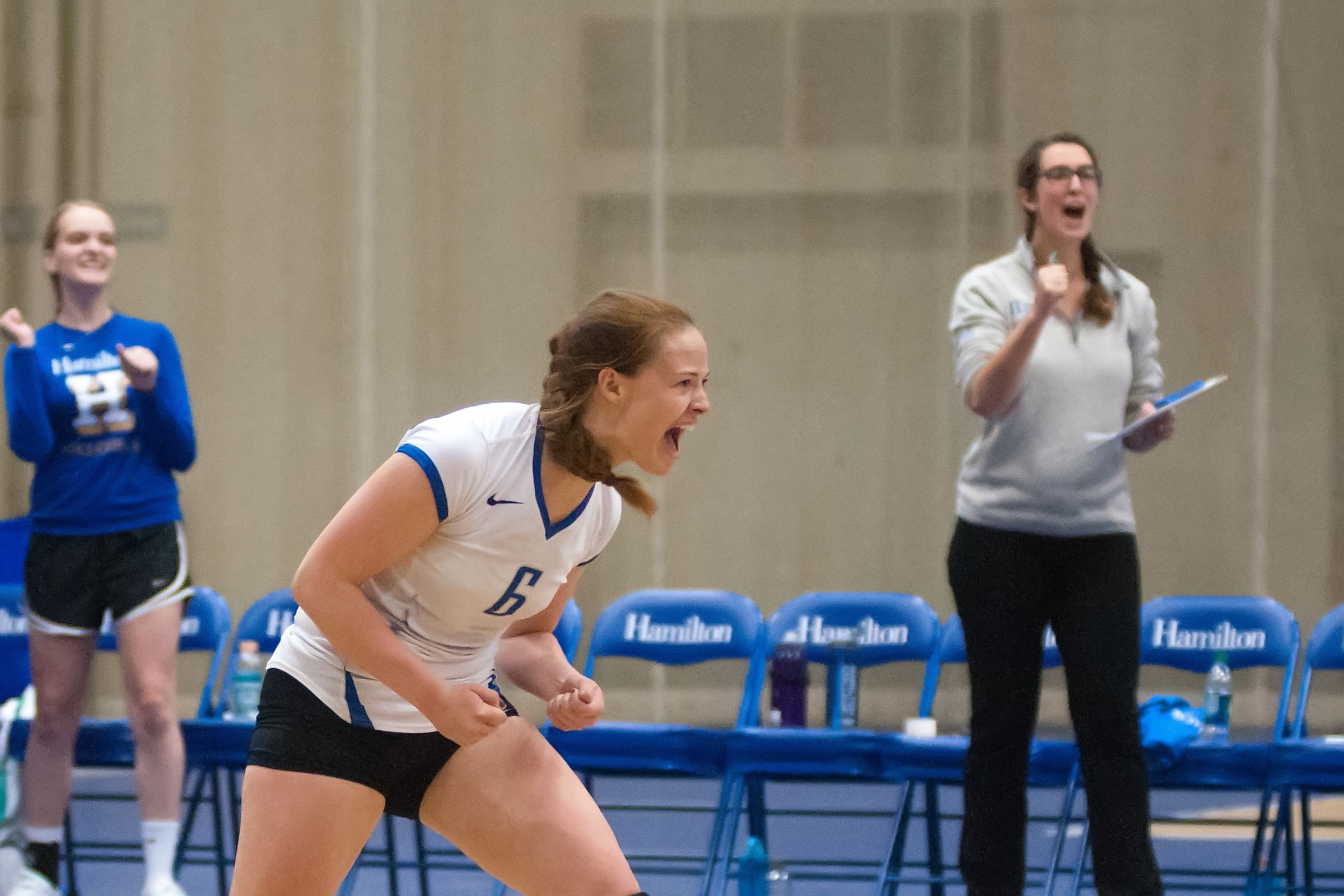 The Hamilton College volleyball team opened competition at the 2014 Hall of Fame Tournament with a sweep of Bridgewater State University on Friday night at Amherst College. The Continentals, who won by scores of 25-23, 25-16 and 25-13, will wrap up the tournament with two more matches on Saturday afternoon.

Box score

The sweep, Hamilton's second of the season, gave the Continentals (14-8 overall) their 14th win of the season. With four more regular-season matches left, they've already posted the program's second-highest win total of the past 15 years.

Erin Casey '15 and Jessica Weston '17 led Hamilton with eight kills apiece. Weston had two service aces, with both coming during a 4-0 run in the first set that broke a 6-6 tie. The Continentals, who had scored the first five points behind the service of Kyndal Burdin '18, broke a 19-all tie with three consecutive points before the Bears knotted the set once more at 23. Casey brought the Continentals to match point with a kill, then combined with Margaret O'Brien '18 for a block that closed out the win.

O'Brien led Hamilton with four blocks and added four kills. She entered this week ranked 12th in Division III with 1.23 blocks per set. Burdin finished with 17 assists and six digs. Julia Smith '18 contributed 12 assists.

Emma Lonadier '15 sparked the Continentals to a fast start in the second set, serving nine straight points to put Hamilton up 9-0. Two of her match-best four aces came during that run. She added eight digs and four kills. After the Bears pulled to within 9-5, a 15-6 run by the Continentals put them up 24-11. Bridgewater State (14-17) scored the next five points but committed a service error that gave Hamilton the decisive point.

In the third set the two teams traded points until Bridgewater State took a 3-2 lead. Smith served seven points in an 8-1 Continental burst that gave Hamilton a 10-4 advantage. During her next service rotation she led Hamilton to five points in a row, leading to a 21-11 lead. An ace by Anna Brown '15 put Hamilton a point away from the win and Weston's eighth and final kill provided the match point.

Hannah Maymon '17 and Christina Jaros '18 led the Bears with eight and seven kills, respectively. Maymon, who notched three aces, and Sarah Mullarkey '15 had a team-high seven digs apiece.

The tournament concludes on Saturday, Oct. 25, with matches against Westfield State (1 p.m.) and Wesleyan (5 p.m.) at Smith College for the Continentals.