Ormeo '11 is an Angel in the Kitchen
---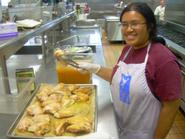 Chopping vegetables, cooking meats and mixing dressings, Loren Ormeo '11 is occupied with cooking a large meal. But instead of just cooking for her friends or family, Ormeo cooks for the needy: those whose life-threatening illnesses prevent them from shopping and cooking themselves. With support from the Summer Internship Support Fund through the Career Center, Ormeo is working with Project Angel Food in Los Angeles.

Initially founded to support individuals with HIV/AIDS, Project Angel Food has now expanded to include victims of other life-threatening diseases. Chefs and volunteers make all of the meals in the kitchen, cooking from scratch to ensure that the meals are healthy and balanced, "and because meals made from scratch are made with love," as Ormeo said.

Since it started in 1989, Project Angel Food has expanded to now accommodate vegetarians, vegans, those with renal failure, people who are financially and/or physically incapable, children, and even has several satellite kitchens in other parts of Los Angeles to more efficiently distribute the meals. Now serving more than 1,000 meals per day, volunteers use their own vehicles to drive the 90 routes from Lancaster to Long Beach, delivering meals to people in need. Meals are also distributed at several satellite drop-off points located all over the Los Angeles area.

Having previously worked in soup kitchens and taken an interest in hunger relief, Ormeo was impressed by Project Angel Food's thoughtful and unique approach to hunger relief. "When I found out Project Angel Food's mission, I thought, 'It is bad enough that people don't and can't cook on a daily basis, but how much worse is it when those people have illnesses and can't cook for themselves, even if they wanted to?'" Ormeo said. She decided to become a full-time volunteer for Project Angel Food, working for eight hours per day in their central kitchen cooking, packaging and preparing meals for delivery.

But Ormeo's favorite part is definitely the cooking. "If I'm lucky, I'm able to work on an entire recipe all by myself; each recipe, depending on what it is and for what diet, can make 150-1,000+ servings," she said. She also gets to improve her culinary skills, which will help her reach her goal of attending culinary school after she graduates from Hamilton, as well as gain more knowledge about the issues and trends involved in the food industry. For her senior thesis in anthropology, Ormeo intends to study the phenomenon of food trucks and how it indicates the changing view of food in American culture. Ormeo is also a HAVOC site coordinator for the Hope House, a soup kitchen in Utica, N.Y.; by learning the inner-workings of Project Angel Food, she can reapply this knowledge to better serve the hunger relief effort in the Utica area. In the end, though, Ormeo found a way to combine her passion for cooking with her concern for the wellbeing of her community, leaving everyone with a good taste in their mouths.

Ormeo's experience with Project Angel Food was made possible by the Summer Internship Support Fund. This fund supports the cost of living assistance to students who might otherwise have insufficient resources to take on a summer internship, including a paid or unpaid opportunity at a for-profit or not-for-profit organization.

Ormeo is a graduate of Belmont High School in Los Angeles.