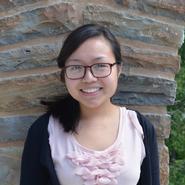 Mandy Lin '15 has been selected to be a student ambassador for the USA Pavilion at Expo Milano 2015. Under the auspices of the U.S. Department of State, the USA Pavilion will showcase American innovation in addressing the challenge of feeding the world's growing population and highlight developments in American culinary culture. The theme is American Food 2.0: United to Feed the Planet.
Expo Milano 2015: Feeding the Planet, Energy for Life is expected to attract 20–30 million visitors from around the world. Lin will work onsite at the USA pavilion to greet and interact with visitors and support a variety of cultural events. She will serve from Aug. 1 t0 Oct. 31, 2015.
Lin went abroad last spring as a Gilman Scholar and learned about this opportunity through their newsletters. "I'm interested in this event because of the topic of the world expo - it took 160 years for the world's fair theme to be centered on food," Lin explained. "I really like the concept on how the exhibition is challenging 140 other countries to invest in global food system because food accessibility has become a global issue that does not have any solutions yet."
Lin will receive round-trip travel to and from Milan, a daily stipend to cover meals and incidentals, and a $1000 bonus upon completion of the program. Nearly 1,000 applications were received online for 120 student ambassador positions and were reviewed by a panel of four faculty members from the University of Southern California on behalf of the U. S. Pavilion.
Lin believes the exhibition "is an important step in raising awareness about the available resources that are being invested in innovative technology so food cannot only be sustainable, but accessible to the seven billion inhabitants on this planet. In other words," she said. "Food production has become the next technological frontier. "
A chemistry major at Hamilton, Lin said she applied because she wants "to be part of this process in educating people. I strongly believe individual change can have an influence on others. Thus, when one family learns about health eating habits they can teach their immediate neighbors," she remarked. "Change can't happen overnight, but awareness among neighborhoods is the first step in creating change in the way we view food sustainability," Lin concluded.