Mariam Ballout '10 is Named Hamilton's Fourth GOLD Scholar
---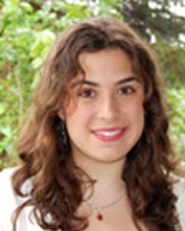 Thanks to the generous support of young alumni, Hamilton College is pleased to name Mariam Ballout '10, of Clifton Park, N.Y., as its fourth GOLD Scholar.
Ballout chose Hamilton after two visits, citing both the friendliness of people on campus ("Everyone seemed to know each other") and students' intellectual engagement in the classroom. Having completed her first year, she attributes the latter in part to the open curriculum, which allows students to explore subjects out of genuine interest rather than obligation.
Ballout notes that academic engagement extends beyond the classroom; she was surprised at the turnout for professors' office hours. "I couldn't believe how many people would be there, especially during exam period," Ballout says. "It's nothing like high school; Hamilton students are so proactive, and the professors give us such personal attention."
Ballout intends to major in World Politics, perhaps in combination with Communications, Philosophy or History. She took Introduction to Political Theory with Associate Professor of Government Robert Martin, who Ballout believes helped improve her writing significantly. "It was a lot of work and sometimes discouraging, but in the end, I'm a better writer for it."
Ballout's extracurricular experiences, particularly choir, Student Assembly and Project SHINE, bolster her appreciation for Hamilton. She beams when talking about Professor of Music Rob Kolb, who she says is "one of a kind." Choir has been tremendously rewarding for her, from the morale that Kolb fosters to welcoming alumni, including Life Trustee James Ferguson '49 and his wife, Esther, who hosted Ballout and other choir members during the 2007 Mid-Atlantic Choir Tour. "Choir is terrific," she says.
Ballout knew she wanted to be a voice in campus decision-making right away. She was elected class representative to Student Assembly, where she served on the Student Interest and Facilities Committees. She helped form a centralized lost and found, and she plans on working next year with Physical Plant to choose environmentally sound paper products.
A very different aspect of Ballout's first-year experience was with Project SHINE, where she worked with Utica's refugee population. Visits to the Refugee Center were an important reminder of how privileged she and other students are to be at Hamilton and how strongly she feels that "we have a very real obligation to help in the world." It was also a profound learning experience. Ironically, while tutors are there to teach, they also learn about genocide and other human crises that are often underreported in the media. Ballout met and heard people who had survived unimaginable circumstances. These interactions were "perspective-altering," she says.
Ballout also kayaked with Adirondack Adventure; interned with Hamilton's Media Relations group, honing her skills for a possible career in journalism; helped plan all-campus dinners and events for the Middle Eastern Student Association, for which she will be treasurer next year; and represented "Latvia" and "the Philippines" in Model EU and Model UN conferences, respectively. Before arriving on campus, Ballout connected through Facebook with Jessica Mariglio '07 and learned more about Students Against Violence; Ballot then supported its events on campus during the year.
Finally, Ballout started working for the Admission Office this spring. "I love guiding tours," she says. "I get to share anecdotes with prospective students to help them make the right college decision, plus I gain an increased appreciation for all that Hamilton has to offer us. It's a great reminder to not take the College for granted."
GOLD Scholars is an initiative supported by the Annual Fund, which has always provided direct support for the College's most important current priorities, especially scholarship aid. Starting this year, gifts from the GOLD Group – Graduates of the Last Decade – will specifically support students on campus. With each $15,000 increment collectively contributed, the College will select a student as a GOLD Scholar for 2006-07.