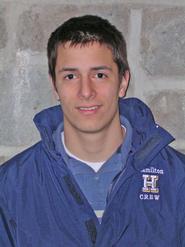 Hamilton College alum André Matias '12 captured a pair of silver medals at the 10th African Rowing Championships, which were held in Tipaza, Algeria, from Oct. 16 to Oct. 18.

Results

Matias, who was rowing for his native country of Angola, teamed up with Jean Luc Rasamoelina to finish second in the Men's Double and the Lightweight Men's Double. They took first place in their heat of the Men's Double with a time of 6:51.69 and posted a time of 6:52.82 in the final. Egypt was the winner in 6:44.11.

In the Lightweight Men's Double final, Matias and Rasamoelina were second with a time of 7:10.22. Algeria earned the gold medal with a time of 6:59.23.

Matias and Rasamoelina are training in Portugal and will attempt to qualify for the 2016 Summer Olympic Games.