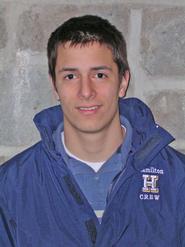 Former Hamilton College men's rower André Matias '12 will compete in the 2016 Summer Olympics in Rio de Janeiro, Brazil, with Angola's rowing team.

Angola qualifies for 2016 Olympic Games

The Angolan Federation of Nautical Sports announced that Matias and Jean-Luc Rasamoelina qualified during an event that recently took place in Tunis, Tunisia. Matias and Rasamoelina will compete in the lightweight men's double, which is for athletes with an average weight of less than 70 kilograms (about 154 pounds).

Matias competed at the 2015 World Rowing Cup II in Varese, Italy, in June. Matias ended up 20th overall in the men's lightweight double sculls as he and another Angolan rower posted a time of 6:41.900 and finished third in the D final.