Megan Bumb '10 Spends Summer as Health Policy Intern for Children's Defense Fund
---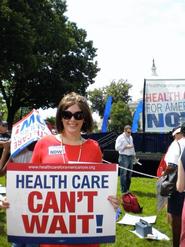 The founder of the Children's Defense Fund (CDF) was Marian Wright-Edelman, a leader in the civil rights movement. She was Dr. Martin Luther King Jr.'s friend and legal counsel, and Megan Bumb '10 was a guest in her home for a barbeque this summer.

The CDF was established in 1973 as a non-profit child advocacy organization. It is the only children's organization that fights for all aspects of a child's well-being, unlike others that target only one issue, such as child poverty or education.
According to its Web site, its mission is "to ensure every child a Healthy Start, a Head Start, a Fair Start, a Safe Start and a Moral Start in life and successful passage to adulthood with the help of caring families and communities." Through her summer internship there, Bumb has made connections with some of CDF's most altruistic and dedicated members, including Wright-Edelman.

Bumb was a health policy intern at the office, where she sometimes worked for more than eight hours a day. Because the CDF is located in Washington, D.C., she regularly attended policy briefings and Senate or House hearings. Afterwards, she would report back to the office to report on any new statistics or opinions that she heard. She was also responsible for covering the daily HELP (Health, Education, Labor, and Pensions) Committee mark-up sessions. Mark-up sessions are where the Committee amends and finalizes bills before it hands them over to the Senate floor for a vote. Bumb found her work demanding but constructive because of its different perspective on the legislative process.

She believes that the skills she learned will carry through to her double major in government and psychology. "One of the greatest tools I learned through my internship is how to quickly go through large quantities of information, pick out what is most important and then analyze and present the information in a very concise, yet thorough manner," she said. With two theses to polish off in one year, she could use a particular and unwavering eye to get her work done more efficiently.

Last fall, Bumb worked for the Senate HELP Committee's Chairman, the late Senator Edward M. Kennedy, as a part of the Hamilton Semester in Washington program. However, this was her first internship that Hamilton has financially supported.

Because her position is unpaid, she applied for and received the Joseph F. Anderson '44 Internship Fund, which allocates money to students who have shown the initiative to obtain a career-based summer job but do not have sufficient funds to cover the cost of living. Internships must be unpaid and students in any area of academic interest may apply.

As a staunch adherent to the Constitution, Bumb recognizes the importance of Constitutional Law. She would like to attend law school to study the integral role the Constitution plays in the American liberty and justice. Ideally, she will work as a federal judge or for an organization like the Innocence Project, which helps free falsely convicted citizens. Her ambitious goals don't end there – eventually, she wishes to rise to the rank of United States Supreme Court Justice. For now, Bumb strikes her gavel on a much smaller scale as an Honor Court representative for her class.

Bumb is a graduate of Lincoln High School.