Men's cross country falls to No. 24 Rensselaer in dual meet
---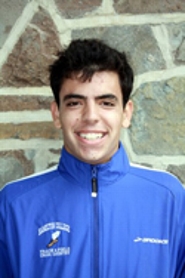 Nationally ranked No. 24 Rensselaer topped Hamilton College in a dual meet at Saratoga State Park in Saratoga Springs, N.Y., on Sept. 15.

Results

Hashem Zikry '13 captured the individual title for the Continentals with a time of 15 minutes, 26.51 seconds on the 3-mile course. The next five runners across the finish line were all Engineers to close out their team point scoring at 20.

Daniel Baer '15 was next for Hamilton in seventh place with a time of 15:53.29. The final three point scorers for the Continentals finished within four seconds of each other. Benjamin Yeo '14 came in 10th with a time of 15:55.16, Nathan Arndt '16 finished 11th at 15:56.4 and Dylan Thayer '13 placed 12th in 15:58.39. Hamilton finished with 41 points.

The Continentals compete in Williams College's Purple Valley Classic on Saturday, Sept. 22.