Men's cross country places 10th at NESCAC Championship
---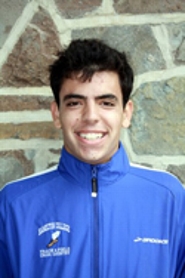 Hamilton College finished in 10th place out of 11 teams at the 2012 NESCAC Championships held at Bowdoin College in Brunswick, Maine, on Oct. 27.

Results

Hashem Zikry '13 was the first Hamilton runner across the line. Zikry finished in 38th place out of 124 runners on the 8-kilometer course with a personal-best time of 25 minutes, 34.55 seconds.

The next three Continentals all set season-best times. David Freeman '16 finished 60th with a time of 26:21.36, Jack Moses '16 crossed the line in 77th place at 26:43.60 and Evan Abelson '16 completed the course in 26:55.35 for 86th place. Sam Dupuis '13 rounded out the scoring for Hamilton in 90th place with a personal-best time of 27:05.19.

Coby Horowitz of Bowdoin earned the individual title with a time of 24:26.78. Horowitz edged Tufts University's Matt Rand in the final stretch to win by a little more than a half-second.

Nationally ranked No. 14 Tufts captured the team title with 66 points. No. 17 Middlebury College was a close second with 69 points, No. 11 Bowdoin finished third with 88 points and No. 4 Bates College was just behind in fourth with 89 points. No. 13 Williams College (fifth) and No. 30 Amherst College (seventh) also participated. Hamilton finished with 281 points.

Hamilton competes in the 2012 NCAA Division III Atlantic Regional Championships at Genesee Valley Park in Rochester, N.Y., on Saturday, Nov. 10.