Men's cross country places 2nd in short course invite
---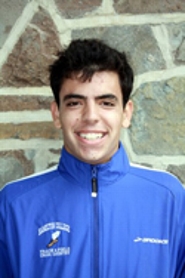 Hamilton College placed second of three teams in the 2012 Hamilton Short Course Cross Country Invitational on Sept. 8.

Results

Hashem Zikry '13 led the Continentals in second place with a time of 19 minutes, 21.3 seconds on the 6-kilometer course. Zikry bested last year's third-place finish by 22.8 seconds.

David Freeman '16 finished ninth with a time of 19:55.4 and Nathan Arndt '16 closed out the top 10 with a time of 19:57.6. Freeman and Arndt were the first freshmen across the finish line.

Sam Dupuis '13 was 14th with a time of 20:20.7 and Daniel Baer '15 placed 15th with a time of 20:26.3 to round out Hamilton's point scorers.

Hamilton placed three more finishers in the top 20. Benjamin Yeo '14 finished 16th with a time of 20:27.1, Jack Moses '16 came in 19th at 20:33.2 and Evan Abelson '16 placed 20th with a time of 20:33.9.

Nationally ranked No. 11 SUNY Cortland won the team title with 19 points. The Continentals were next with 44, and Division II Le Moyne College was third with 85 points. Cortland's Nick Marcantonio won the invitational with a time of 19:13.1.

Hamilton competes in the Saratoga Invitational on Saturday, Sept. 15.