Men's indoor track & field competes in Hamilton Invitational
---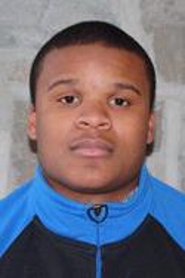 Hamilton College's Mbuotidem Isaac '15 set a school record in the 60-meter dash in the non-team scoring Hamilton Invitational at Margaret Bundy Scott Field House on Jan. 26.

RESULTS

Isaac finished second with a time of 7.13 seconds, which bested the old record of 7.14 set by Jay Russell '06 in 2003. Wlajimir Alexis '13 earned Hamilton's lone event victory with a height of 4.25 meters (13 feet, 11.25 inches) in the pole vault.

Leonard Kilekwang '16 finished in the top three twice. Kilekwang came in second in the 500-meter dash at 1 minute, 11.39 seconds, and was third in the triple jump with a mark of 12.61 meters (41 feet, 4.5 inches).

Jake London '14 took second in the high jump with a height of 1.88 meters (6 feet, 2 inches), and Will Tifft '14 grabbed third place in the 35-pound weight throw with a distance of 13.84 meters (45 feet, 5 inches).

Joe Jensen '15 sprinted to third place in the 200-meter dash in 23.34 seconds and finished seventh in the 60-meter dash. Jensen's faster time of 7.35 seconds was set in prelims.

In the distance events, Andrew Mandelbaum '16 claimed fourth place in the 800-meter run in 2:02.03, and Hashem Zikry '13 captured fifth place in the 5,000-meter run with a time of 15:49.70. James Bryan '16 posted a time of 4:35.18 in the mile run on his way to 11th place in a field of 34 runners.

Nationally ranked No. 23 SUNY Oneonta participated in the meet. Hamilton heads to the SUNY Brockport Invitational on Saturday, Feb. 2.