Men's Soccer Donates Winter Clothes to Local Organizations
---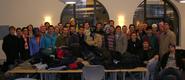 The Hamilton College men's soccer team recently collected and donated winter clothing to the Rescue Mission and Operation Sunshine in the Utica, N.Y., area.

Players stuffed 30 bags with winter coats, sweaters, gloves and scarves, and handed everything over to the Rescue Mission and Operation Sunshine. Both organizations will assist with the Hurricane Sandy relief effort as well.

"My truck was loaded inside and out," head coach Perry Nizzi said. "I never saw so many happy people when I pulled up to the Rescue Mission in Utica. The team did an awesome job."

Members of the men's soccer team began collecting winter gear from family and friends the week before Thanksgiving. The student-athletes concluded their efforts on Dec. 11.