Men's soccer downed by Wesleyan
---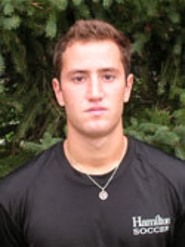 Daniel Issroff '15 and Chris Kafina '16 scored one goal each and Wesleyan University defeated Hamilton College 2-0 in a NESCAC game at Wesleyan's Jackson Field on Sept. 16.

Chris Lee '13 and Henry Karmin '14 added one assist apiece for Wesleyan. Adam Purdy '13 made one save to record the shutout. The Cardinals outshot Hamilton 20-6, and held a slight advantage in corner kicks at 3-1.

Eric Boole '13 and Fred Porges '14 combined to make 10 saves for the Continentals. Boole stopped six shots in the first half and Porges made four saves in the second. Brian Whiston '13 and Anthony Balbo '13 took two shots apiece for Hamilton.

Wesleyan (3-1-0 overall, 2-1 NESCAC) took a 1-0 lead in the 26th minute when Issroff received a pass from Lee on the left and scored from 25 yards out with a shot that snuck inside the right post. Kafina added a goal in the 57th minute with his shot from 15 yards away on the left after a pass from Karmin.

The Continentals (1-3-1, 0-3-1) return to the field to take on NESCAC opponent Amherst College on Saturday, Sept. 22.