Men's soccer suffers loss at No. 3 Amherst
---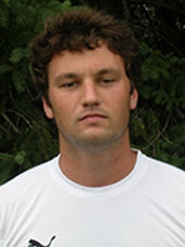 Jae Heo '14 scored one goal and tallied two assists for nationally ranked No. 3 Amherst College in a 5-1 win over Hamilton College in a NESCAC game at Amherst's Hitchcock Field on Sept. 22.

Federico Sucre '13 added two goals in the second half for the Lord Jeffs. James Mooney '13 and Spencer Noon '13 scored one goal apiece. Thomas Bull '16 made one save in 78 minutes, and Will Poss '16 finished the game in goal.

Brian Whiston '13 scored Hamiton's goal and Leo Nizzi '14 was credited with the assist. Nizzi's 11 career helpers rank sixth on the program's all-time list. Eric Boole '13 stopped two shots before he was relieved by Dan Coulter '13 in the 79th minute.

Amherst (4-0-0 overall, 2-0 NESCAC) scored twice in the first 21 minutes. Heo assisted on goals by Noon at 14 minutes, 28 seconds, and Mooney at 20:31, as the Lord Jeffs took a 2-0 lead into the break.

Whiston notched his first goal of the season 2:59 into the second half to cut the Continentals' deficit in half. It was the first goal Amherst allowed this year.

Heo stretched the lead to 3-1 off a pass from Noon. Sucre tallied his two goals in the 64th and 70th minutes with assists to Chris Lerner '13 and Mike Hoeksema '15. The Lord Jeffs held the advantage in shots (21-7) and corner kicks (7-3).

Hamilton (1-4-1, 0-4-0) returns to action on Saturday, Sept. 29, when the Continentals host Bates College for a NESCAC matchup.