Men's soccer ties at Connecticut College
---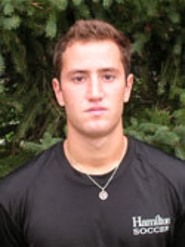 Eric Boole '13 stopped 11 shots as Hamilton College and Connecticut College played to a 1-1 tie in a NESCAC game on Conn. College's Tempel Green on Sept. 15.

Boole made two saves late in the second overtime period to secure the tie. Hennie Bosman '13 scored in the fifth minute and Anthony Balbo '13 tallied an assist for Hamilton. Bosman leads the team with two goals and five points.

Kevin O' Brien '15 knotted the score on an unassisted goal that deflected off the right post from 20 yards out in the 68th minute. Casey Marini '13 played the entire game in net for the Camels and didn't make a save.

The Continentals (1-2-1 overall, 0-2-1 NESCAC) grabbed an early lead on Bosman's goal, which was chipped in on a rebound after a 2-on-1 situation. It was the second goal in as many games for Bosman.

Conn. College (1-0-2, 0-0-2) outshot Hamilton 21-5, and held the advantage in corner kicks, 8-4. The Continentals continue their road trip on Sunday, Sept. 16, with another NESCAC contest at Wesleyan University.