Men's soccer wins first NESCAC game of season
---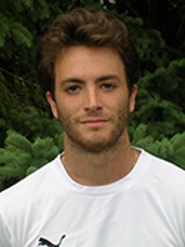 Hamilton College received one goal from three different players and Leo Nizzi '14 had two assists as the Continentals defeated Bates College 3-1 in a NESCAC match at Hamilton's Love Field on Sept. 29.

Bayard Geeslin '16 scored for the Continentals in the first half and Erich Marcks '16 and Anthony Balbo '13 connected on goals in the second half. Nizzi moved into a tie for second place on Hamilton's all-time assists list with 13. Trevor Bobola '15 also tallied an assist, and Eric Boole '13 made two saves for the winners.

Ethan Hirshberg '13 scored the lone for Bates, and Sam Polito '16 stopped five shots. The Continentals outshot the Bobcats 26-12, including a 12-2 advantage in the first half. Hamilton also owned the corner kick battle, 9-2.

Hamilton (2-4-1 overall, 1-4-1 NESCAC) scored its first goal after a near miss by Ralph Jerome '15, whose header was punched out-of-bounds by Polito. On the ensuing corner kick, Nizzi crossed the ball into the box where Bobola headed to Geeslin, who connected on his first collegiate goal in the 37th minute. The Continentals led 1-0 at the break.

Boole was tested just three minutes into the second half. A Bates free kick made its way into the box and was headed towards the goal. Boole grabbed and secured the ball for his second save.

Hamilton added another goal in the 57th minute. Marcks crossed the ball from the end line towards the net and it deflected off a Bates defender for a 2-0 lead.

The Bobcats (2-4-1, 0-4-1) answered quickly in the 59th minute when Hirshberg collected a pass near the end line, took two dribbles around a defender and deposited a shot into the back of the net.

The Continentals put the game out of reach with an insurance goal with 2:19 remaining. Nizzi's free kick led Balbo into the box where his one-timer sailed by the keeper into the upper-right corner.

Hamilton takes a break from conference action when the Continentals host SUNY Institute of Technology on Wednesday, Oct. 3. Bates continues its road trip at Tufts University on Sunday, Sept. 30.