Skidmore slips by men's basketball
---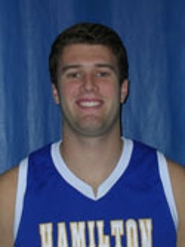 Brian Lowry '12 poured in 19 points off the bench to lift Skidmore College to a 75-72 win against Hamilton College in a Liberty League men's basketball game at Hamilton's Margaret Bundy Scott Field House on Jan. 15.

Lowry was 5 of 7 from 3-point range in just 22 minutes. His two free throws gave the Thoroughbreds a 73-68 lead with 10 seconds left. As a team, Skidmore was 10 of 26 (38.5 percent) from 3-point range.

Gerard O'Shea '12 chipped in 10 points and four assists for the Thoroughbreds. Terron Victoria '12 added nine points and five rebounds. John Mantas '12 clinched the victory with two free throws with 2.2 seconds remaining and finished with nine points off the bench.

Pat Sullivan '12 paced the Continentals with a game-high 24 points. Matt Dean '14 scored a season-high 12, and Tom McInerney '14 had 10 points and a game-high nine boards in 19 minutes off the bench.

Sullivan gave Hamilton a 6-0 lead with three quick baskets early in the first half. Skidmore roared back to grab a 22-14 lead midway through the half, and the Thoroughbreds never trailed again. The Continentals pulled within one point twice -- the last time at 30-29 on two free throws by Ephraim McDowell '12 with 4:38 left in the half. Skidmore pulled away again and led 46-39 at the break. The Thoroughbreds shot 50 percent from the field in the first 20 minutes, and made seven 3-pointers. Hamilton was even better at 56.5 percent.

The Thoroughbreds (8-5 overall, 2-1 Liberty) started the second half with a 6-0 run for a 52-39 advantage. Hamilton missed its first 10 shots from the field in the second half. McInerney's basket with 13:48 remaining finally broke the ice for the Continentals, and pulled Hamilton within 54-45.

The Continentals (7-5, 1-2) whittled the Skidmore lead down to five at 56-51 with 9:48 left, but the Thoroughbreds scored the next 10 points to take their largest lead of the afternoon at 15 points. Three-pointers by Lowry and Mantas were followed by jumpers by Victoria and Jeff Altimar to make the score 66-51 with 7:20 remaining.

Hamilton made one last run as the Continentals clawed to within 68-64 thanks to their own 10-0 spurt. McDowell and Sullivan sank 3-pointers, Dean made a layup and Sullivan finished the run with two free throws with 2:19 left. A layup by Kevin Dahill '13 off a nice pass from O'Shea gave Skidmore a 70-64 lead with 44 seconds remaining, and Hamilton didn't get closer than the final three-point margin.

Due to the poor start, the Continentals shot just 32.3 percent in the second half. The Thoroughbreds weren't much better at 38.5 percent. For the game, Hamilton was 5 of 19 from long range, but went 21-for-25 (84 percent) at the free-throw line. Skidmore made 79 percent (15-19). The Continentals still hold a commanding 35-8 lead in the all-time series.

Hamilton hosts undefeated and nationally ranked Middlebury College in a non-league game on Tuesday, Jan. 18. The Thoroughbreds travel to Clarkson University for another league game on Friday, Jan. 21.