Men's basketball prevails in defensive struggle
---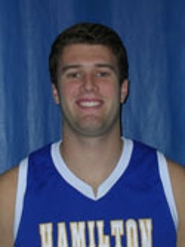 Pat Sullivan '12 scored a game-high 19 points and pulled down a game-high 10 rebounds to lead Hamilton College to a 55-50 win against Union College in a Liberty League men's basketball game at Hamilton's Margaret Bundy Scott Field House on Jan. 14.

Sullivan recorded his third straight double-double and the sixth of his career. He's averaging 17.5 points and 7.3 rebounds per game. Ken Click '13 and Ephraim McDowell '12 added six points apiece.

Rusmir Dzanko '12 paced Union with 12 points off the bench. Matt Covucci '11 chipped in 10 points, seven rebounds and a game-high five assists before he fouled out with 3:58 left.

The Continentals (7-4 overall, 1-1 Liberty) were playing their first home game since Dec. 1. Hamilton improved to 5-1 at Scott Field House. The Continentals lead the all-time series 78-72. The Dutchmen lost their fourth straight game.

Hamilton led 9-2 midway through the first half. At the 10-minute mark of the first, Union had made just three field goals and trailed 14-6. The Dutchmen recovered and took their first lead at 21-20 on a layup by Drew Goldstein '11 with 3:20 left. Union led 22-21 at the half as the Dutchmen held the Continentals without a field goal for the final four minutes of the half.

Union (8-5, 0-2) opened up a five-point lead twice in the second half. The last time was a 41-36 advantage with 7:30 remaining. Hamilton took over at that point with a 14-3 run for a 50-44 lead with 3:58 left. Sullivan started the run with a 3-pointer and two free throws, and he ended it with two more free throws. A jumper by Sullivan gave the Continentals a 54-46 cushion with 2:11 remaining. The Dutchmen pulled within 54-50 with 13 seconds left, but McDowell clinched the victory with a free throw with 9.9 seconds remaining.

Neither team shot all that well from the floor. Hamilton shot 44.4 percent in the second half and was slightly better than Union at 36.5 percent. Union finished at 32.7 percent. In addition, the Dutchmen went 10 of 17 at the line for 59 percent while the Continentals made 12 of 21 (57 percent).

Hamilton hosts Skidmore College for another league game on Saturday, Jan. 15. Union travels to Hobart College in league action on Saturday as well.