Men's basketball rallies for win at Union
---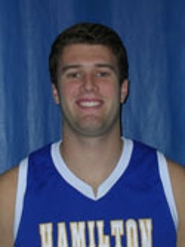 Pat Sullivan '12 scored 22 points and grabbed seven rebounds to lead Hamilton College to an 80-71 win against Union College in a Liberty League men's basketball game at Union's Viniar Athletic Center on Feb. 5.

Ephraim McDowell '12 made three 3-pointers and finished with 16 points for Hamilton. Matt Dean '14 scored nine points and Ken Click '13, Ryan Wright '14 and Hans Schulte '13 each added eight for the Continentals.

Hamilton (12-6 overall, 6-3 Liberty) shot 47 percent from the field and held a 32-25 rebounding advantage. The Continentals turned the ball over just five times.

Union (9-12, 1-9) was led by Keven Donohue's 23 points and eight boards. It was Donohue's 15th double-figure scoring game. He made 8 of 14 shots and all four free throws, and dished out five assists. Rusmir Dzanko and Evan Croll scored 14 points apiece. Croll's total was a career high. Matt Covucci added 10 points and four assists, and Drew Goldstein also had four assists. Union shot 55 percent from the floor and had just nine turnovers.

The Dutchmen were hot in the first half and held a 32-22 lead with 4:40 to go. But the Continentals went on a 12-2 run to tie the score at 34-34 with 43 seconds left, and led 36-34 at the half.

In the second half, Hamilton took a 54-47 lead with 12:25 left on two free throws by Greg Newton '14. Union came back with a 13-5 run in the next 5:55, and took a 60-59 lead after a layup by Donohue. But 3-pointers by McDowell, Sullivan and Dean, sandwiched around another Donohue basket made it a 68-62 lead for the Continentals with 4:06 left.

Union got within four at 69-65 with 2:14 left on a Matt Petrone free throw. The Continentals sealed the win by making eight straight free throws down the stretch.

Hamilton hosts league leader Hobart College on Tuesday, Feb. 8.