Men's basketball drops heartbreaker to Hobart
---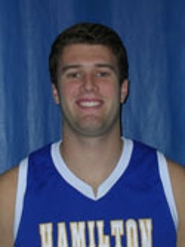 Matt Pebole '12 poured in a game-high 30 points to lead Hobart College to a narrow 70-67 win against Hamilton College in a Liberty League men's basketball game at Hamilton's Margaret Bundy Scott Field House on Feb. 8.

Pebole also grabbed seven rebounds. He was 10 of 15 from the field, including 2 of 3 from 3-point range, and went 8-for-10 at the free-throw line. Tim Llewellyn '11 chipped in nine points, and Adam Salzmann '11 added eight boards and four blocked shots. Stefan Thompson '13 handed out a game-high five assists and nailed a long 3-pointer with 28 seconds left to give Hobart a five-point lead.

Hamilton (12-7 overall, 6-4 Liberty) received 21 points and a game-high nine rebounds from Pat Sullivan '12. Sullivan -- the league's leading scorer -- posted his seventh 20-point game this season. Ephraim McDowell '12 dropped in 10 points, Ryan Wright '14 scored nine points on three 3-pointers and Max Shillalies '11 came off the bench to score eight. Matt Dean '14 and Greg Newton '14 were credited with four assists apiece.

The Statesmen (17-4, 9-1) led 7-2 early, but the Continentals came back to take a 14-13 lead midway through the half. After a free throw by Hobart's Sean Peer '13 tied the score at 14-14, Hamilton went on a 13-2 run for a 27-16 advantage with 5:17 left before the break. Shillalies had six points during the spurt, and the 11-point lead turned out to be the largest of the night for either team. The Continentals, who shot 55.6 percent from the floor in the first half, clung to a 35-32 lead at the break.

The Statesmen opened the second half with a 6-2 mini-run and took a 38-37 lead on a layup by Thompson. Neither team led by more than four points until the final minute of the second half. Hobart led 59-55 after a jumper by Salzmann with 4:09 remaining. Hamilton scored the next six points on three free throws by Newton and a 3-pointer by Wright. Wright's trifecta gave the Continentals a 61-59 advantage with 2:33 left.

The Statesmen regained the lead at 63-61 with 1:21 remaining on layups by Llewellyn and Pebole. McDowell missed a layup on a drive down the line on Hamilton's next possession, and that set the stage for Thompson. The 5-foot-10 point guard came into the game averaging more than 15 points per game, but was just 1 of 9 from the field until he buried a 25-footer to put Hobart up 66-61 with 28 seconds left.

Wright brought the Continentals within 66-64 with another 3 with 22 seconds remaining. Llewellyn was fouled two seconds later, made the first free throw and missed the second for a three-point advantage. Hamilton missed an off-balance shot from the paint with less than 10 seconds left, and Greg Stern '12 grabbed the defensive rebound. The Statesman made three free throws in the final 5.5 seconds to clinch their victory.

Hobart made 8 of 16 shots from beyond the arc to help sweep the season series. The Statesman -- winners of four straight -- also defeated the Continentals by three points at home 65-62 back on Jan. 10. Hamilton still leads the all-time series 93-55.

The Continentals travel to St. Lawrence University for another league game on Friday, Feb. 11. League-leading Hobart is at Clarkson University in league play on Friday as well.