Men's basketball rallies for big road win
---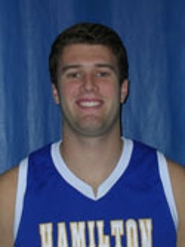 Pat Sullivan '12 scored a game-high 21 points and grabbed seven rebounds to lead Hamilton College to a 60-53 win against St. Lawrence University in a Liberty League game at St. Lawrence's Burkman Gymnasium on Feb. 11.

Hamilton (13-7 overall, 7-4 Liberty) is tied for third place in the league standings with three games left. The Saints (10-11, 6-5) dropped to fifth place. Four teams make the league tournament.

Sullivan has scored 20 or more points eight times this season. Ephraim McDowell '12 scored all 17 of his points in the second half. McDowell drained four 3-pointers in the final 20 minutes.

Ken Click '13 chipped in eight points and Ryan Wright '14 handed out five assists. Wright's 3-point shot at the buzzer gave the Continentals a 59-56 win against St. Lawrence on Jan. 29. Matt Dean '14 had three of Hamilton's 10 steals as the Continentals helped force 19 Saint turnovers.

St. Lawrence was led by Ralph Temgoua '12 with 13 points and seven rebounds, while Al Jones '14 added 10 points.

St. Lawrence jumped out to a 16-6 advantage in the first 10 minutes before Hamilton went on an 11-2 run to come within one point at 18-17 with less than four minutes to play in the half. The Saints scored the final six points of the first half and led 24-17 at the break. The Continentals shot 28 percent from the field in the first half.

In the second half, Hamilton battled back to tie the score at 27-27 on two free throws by Sullivan. The Saints stretched their lead back up to nine points at 38-29 as Jones converted back-to-back layups followed by two free throws by Temgoua with 12:54 left.

Hamilton roared back to knot the score at 45-45 on a Sullivan jumper with 7:14 remaining. McDowell drained a 3-pointer with 6:04 left to pull the visitors ahead for good at 48-45. Click completed a 10-0 run with a layup that made the score 50-45 with 5:26 remaining.

Jones sank a 3-pointer to bring St. Lawrence within three points at 54-51 with 1:12 left. But McDowell nailed his fourth and final 3-pointer of the night with 55 seconds remaining, and he converted 3 of 4 free throws in the final 32 seconds to clinch the victory. The Continentals shot a blistering 68 percent (17-25) from the floor in the second half.

Hamilton travels to Clarkson University for another league game on Saturday, Feb. 12.