Men's basketball cruises to win at Clarkson
---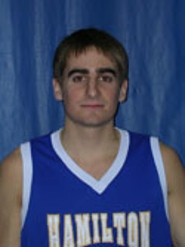 Greg Newton '14 scored a season-high 16 points in 19 minutes off the bench to lead Hamilton College to a 79-50 rout against Clarkson University in a Liberty League men's basketball game at Clarkson's Alumni Gymnasium on Feb. 12.

Newton was perfect on the afternoon as he made all six of his field goal attempts and went 4-for-4 at the free-throw line. League-leading scorer Pat Sullivan '12 chipped in 14 points. Max Shillalies '11 added eight points, seven rebounds and three assists in a reserve roll. Tom McInerney '14 and Hans Schulte '13 had eight points apiece, and Ken Click '13 blocked three shots. Ten players scored at least two points for the Continentals.

Hamilton (14-7 overall, 8-4 Liberty) has won three straight road games. The Continentals remained in a tie for third place in the league standings with two league games remaining. The top four teams make the league tournament. Hamilton shot 59 percent from the field and 85.7 percent at the line.

The Golden Knights (11-12, 3-9) had their record fall below .500 for the first time this season. Clarkson grabbed 16 offensive rebounds, but shot 26 percent from the floor. Both teams committed just seven turnovers apiece.

Virtually nothing went right for the Golden Knights in the first half. After starting the contest with the opening basket, Hamilton turned on its offense and raced out to a double-digit lead. The Continentals made 11 of their first 14 shots from the field in the first 13 minutes, and in that same time frame Clarkson made only four of its 24 shots.

The first half ended with similar percentages, as Hamilton shot 63 percent (17-27) from the field, and the Knights shot only 18.2 percent (6-33). Clarkson was helped by its 10 offensive rebounds, which provided nine second-chance points. The Continentals led comfortably 40-17 at the break.

Two players reached double figures in the first half for Hamilton, as Sullivan scored 10 points and Newton added 10. Felix Llanos had seven points for Clarkson. The rest of the team was just 3 of 27.

The Knights had a few runs in the second half to cut into Hamilton's lead, including a stretch of four 3-pointers by Llanos, but the final 20 minutes mirrored the first 20. The Continentals shot 54.5 percent in the second half (12-22), while Clarkson continued to struggle, finishing off 11 of 32 attempts.

Llanos had a game-high 21 points, as he finished 4 of 5 from 3-point range and 8 of 13 overall. Nate Uline and Jonathan Hood grabbed nine rebounds apiece for the Knights.

Hamilton travels to nationally ranked No. 7 Middlebury College for a non-league game on Monday, Feb. 14.