Men's basketball clinches playoff spot with win
---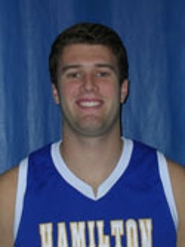 Pat Sullivan '12 had game highs of 23 points and six rebounds to lead Hamilton College to a 63-46 win against Vassar College in a Liberty League men's basketball game at Hamilton's Margaret Bundy Scott Field House on Feb. 18.

Hamilton (15-8 overall, 9-4 Liberty) has clinched one of the four spots in next weekend's league tournament, which will be held at either Hobart College or Rensselaer. The Continentals are tied with Skidmore College for third place in the league standings with one game remaining.

Hobart, Rensselaer, Skidmore and Hamilton comprise the field for the tournament. The Continentals, who could finish anywhere from a No. 2 to a No. 4 seed, host Rensselaer in the regular season finale on Saturday, Feb. 19.

Sullivan was 9 of 11 from the field as he made both of his 3-point shots, and he went 3-for-5 at the free-throw line. He leads the league in scoring at 17.1 points per game. Hans Schulte '13 chipped in 12 points off the bench for the second straight game. Greg Newton '14 added 11 points and three steals. Newton made all five of his shots from the floor.

Caleb McGraw '12 paced Vassar (3-21, 1-12) with 12 points, Ethan Shanley '12 had 11 with four rebounds and Jon Herzog '13 scored eight. All three came off the bench for the Brewers. Shanley finished 3 of 5 from 3-point range. Nick Justiz '12 also had eight points. Vassar was 10 of 16 (62.5 percent) from beyond the arc, but just 5 of 27 on 2-point attempts.

Hamilton scored the first six points and never trailed. The Brewers recovered to tie the score at 10-10, but a layup by Matt Dean '14 gave the Continentals the lead for good at 12-10 with 12:02 left in the first half. Dean's basket started a 17-5 run that ended with a 3-pointer by Eric Benvenuti '13 for a 27-15 cushion with 5:00 remaining. Hamilton led 33-21 at the half.

The Continentals scored the first seven points of the second half to take their largest lead of the night at 19 points (40-21). Vassar finally clawed back to within eight at 54-46 with 3:38 left, but Hamilton clinched the win with a 9-0 run to end the game. Sullivan scored six of the nine points during the game-ending spurt.

The Continentals shot 60 percent from the field, including 4 of 7 from long range, and held a 29-20 advantage in rebounds. The Brewers shot just 35 percent. Hamilton leads the all-time series, 22-2, including an 84-44 rout at Vassar on Jan. 22.

The Brewers travel to Hobart on Saturday for their final league game this season.