Men's basketball drops heartbreaker to Rensselaer
---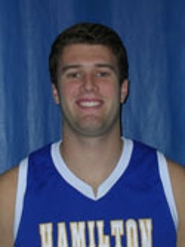 Daniel Martin '13 grabbed an offensive rebound and made a layup with three seconds left to lift Rensselaer to a 71-70 win against Hamilton College in a Liberty League men's basketball game at Hamilton's Margaret Bundy Scott Field House on Feb. 19.

Rensselaer (17-7 overall, 11-3 Liberty) won its seventh straight game and earned the No. 2 seed in the four-team league tournament, which will be held at top seed Hobart College on Friday and Saturday, Feb. 25 and 26. The Engineers play No. 3 seed Skidmore College in Friday's first semifinal at 6 p.m.

The Continentals (15-9, 9-5) are the No. 4 seed and will take on Hobart in the other semifinal on Friday at 8. Hamilton lost by three points twice to the Statesmen this season. Six of the Continentals' nine losses have been by four points or less.

Martin finished with just six points, but grabbed a game-high eight rebounds and blocked four shots in 19 minutes off the bench. Matthew Pooley '12 led Rensselaer with 11 points off the bench, and DJ Blakemore '11 and Mike Brion '11 chipped in 10 apiece. Travis Jones '11 had nine, and Jeremy Bull '11 finished with nine points and three steals.

Pat Sullivan '12 became the 32nd player in Hamilton men's basketball history to reach 1,000 points in a career. Sullivan finished with 17 points and six rebounds, and now has 1,001 career points. He achieved the milestone with a layup that gave the Continentals a 68-66 lead with 1:17 left.

Hamilton's Ephraim McDowell '12 was 3 of 5 from 3-point range and finished with 11 points. Ryan Wright '14 scored eight points, and Greg Newton '14 added eight points and four assists. Max Shillalies '11 also handed out four assists.

McDowell drained a 3-pointer less than 30 seconds into the first half, and the Continentals shot out to an 18-8 lead midway through the first half. The 10-point advantage was the largest of the game for either team. The Engineers roared back with an 18-4 run that gave them a 26-22 lead with 3:56 remaining in the half. Rensselaer clung to a 33-31 edge at the break.

The second half was as competitive as it gets as neither team led by more than four points. There were seven ties and 14 lead changes in the final 20 minutes. A 3-pointer by Wright gave Hamilton a 66-62 lead with 3:26 left. Jamie Zajac '13 made two free throws and Pooley converted a layup to draw the Engineers even at 66-66 with 1:45 remaining.

Sullivan followed with his 1,000th point, but Pooley nailed a 3-pointer to put Rensselaer up 69-68 with 1:08 left. After a turnover by the Continentals and a missed free throw by Pooley, Newton slashed down the lane and made a layup for a 70-69 Hamilton lead with 16 seconds remaining.

The Engineers called a timeout with 7.9 seconds left after a missed jumper and an offensive rebound. Bull caught the in-bounds pass, drove the left baseline and missed a tough runner, but Martin was there for the board and the winning putback. The Continentals couldn't get a shot off in the closing seconds.

Hamilton shot 45 percent from the field, including 6 of 12 from 3-point range, and went 12-for-14 (85.7 percent) at the line. Rensselaer was slightly better from the floor at 46.4 percent, and made 6 of 16 from beyond the arc. The Engineers shot 76.5 percent (13-17) at the line. The Continentals owned a 35-31 rebounding edge. Hamilton, which defeated Rensselaer 73-66 on the road back on Jan. 21, still holds a 47-38 lead in the all-time series.