Men's basketball falls to Skidmore in Liberty League final
---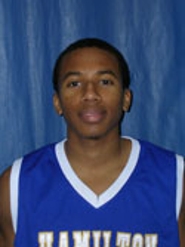 Melvis Langyintuo made 6 of 8 shots from 3-point range and finished with a game-high 20 points to lead Skidmore College to a 68-52 win against Hamilton College in the 2011 Liberty League men's basketball tournament championship game at Hobart College's Bristol Gym on Feb. 26.

No. 3 seed Skidmore (18-9 overall) won its first league tournament title in the 12-year history of the event. The Thoroughbreds earned the league's automatic bid to the NCAA Division III championship. Skidmore will head into the national tournament on a five-game win streak.

No. 4 seed Hamilton (16-10) was aiming for its fifth tournament title in its last season in the league. The Continentals jump into the New England Small College Athletic Conference for basketball in 2011-12. Ryan Wright '14 had a team-high 11 points, and Pat Sullivan '12 posted 10 points and a game-high eight rebounds. Greg Newton '14 and Hans Schulte '13 chipped in nine and eight points, respectively, off the bench. Matt Dean '14 grabbed seven boards.

Playing in its first league final, the Thoroughbreds dominated the Continentals from start to finish. It was Skidmore's third win this season over Hamilton.

Langyintuo nailed a 3-pointer 15 seconds into the first half, and the Thoroughbreds led the entire game. The Continentals were within one point at 13-12 midway through the first half, but Skidmore responded with a 9-0 run on a pair of 3-pointers by Langyintuo and another by Jeff Altimar, and was never threatened again. Skidmore connected on nine 3-pointers in the first half with Langyintuo accounting for four of them, as the Thoroughbreds took a 33-19 lead into the break.

Skidmore came out just as strong in the second half, pushing the lead to as many as 20 points after back-to-back threes by Altimar and Langyintuo. The lead never got below double-digits as Skidmore controlled the tempo. The Thoroughbreds dominated from beyond the arc, hitting 16 3-pointers compared to just one for Hamilton.

Langyintuo was named tournament MVP. Gerard O'Shea added 10 points and four assists. O'Shea and Terron Victoria joined Langyintuo on the all-tournament team. Wright and Sullivan were also named to the all-tournament team.