Men's basketball advances to Union tourney title game
---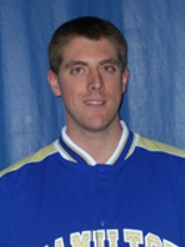 Ken Click '13 and Pat Sullivan '12 scored 16 points apiece to lead Hamilton College to a 69-52 win against Wells College in the first round of Union College's 2012 Sig Makofski Invitational Tournament at Union's Viniar Athletic Center on Jan. 2.

Hamilton (10-2 overall) advances to the tournament championship game to play the hosts at 8 p.m. on Tuesday, Jan. 3. Union defeated Roger Williams 70-63 later Monday night.

Click went 8-for-12 from the field to achieve his season-high point total. Sullivan scored 12 points in the first half to lead the Continentals to a 41-23 advantage at the break.

Peter Kazickas '15 scored 10 points and grabbed eight rebounds in his first start for Hamilton. Greg Newton '14 handed out a game-high six assists and Matt Dean '14 came off the bench to pull down eight boards.

Wells (4-5) was paced by Dave Foltz, who scored a game-high 17 points to go along with three assists and three steals. Foltz was the only player that scored in double figures for the Express.

Wells took its only lead of the night on a 3-pointer by Mike DiCampli to open the game. The Continentals scored the next seven points and led the rest of the way. Two jumpers by Click sandwiched around a 3-pointer by Sullivan to account for the early 7-3 advantage.

Hamilton held a slim 14-11 lead with 10:55 left in the half when the Continentals went on a 12-0 run to take a 26-11 advantage with 7:47 remaining. Eric Benvenuti '13 scored all seven of his points during the spurt.

Hamilton maintained its double-digit lead the rest of the half. Two free throws by Sullivan with 44 seconds left made it 41-23, which was the Continentals' largest lead before the break. Hamilton shot 57.7 percent in the first 20 minutes, and the Express shot just 22.6 percent from the floor.

Wells made things interesting in the second half. After a Newton layup gave the Continentals a 47-32 lead with 15:37 remaining, the Express responded with a 12-2 run to pull within 49-44 with 10:16 left. Foltz had half of Wells' 12 points during the spurt.

Hamilton ended any thoughts of a comeback by scoring the next eight points. Two free throws by Newton, a 3-pointer by Ephraim McDowell '12, a fast-break layup by Sullivan and a free throw by Kazickas made the score 57-44 with 7:40 remaining. The Continentals led by double digits the rest of the night.

The 52 points scored by the Express is the fewest by a Hamilton opponent this season. The Continentals enjoyed a 47-27 rebounding advantage. Hamilton was 23 of 34 on 2-point shots.