Men's basketball alum hits hardwood with President Obama
---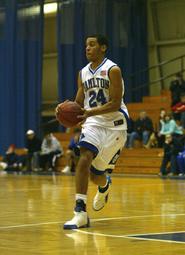 Hamilton College men's basketball 1,000-point scorer Nick Jones '07 was photographed and appeared in a feature story about the impact the Barack Obama administration has made on the sport, and was posted on ESPN.com on June 18.
Jones was in two photos that ran with the article. The first photo shows President Obama playing defense against Jones, who is posting up with his back to the basket. In the second photo, Jones is third from the left as a group of players arrive at the White House before the pick-up game.
Jones played with the President, a few of his friends from Chicago and some White House staff on May 9. He received a call the day before from a close friend who works in the West Wing and had seen Jones play basketball before.
"At the end of our conversation he told me I needed to be at the White House gates the next morning at 11 a.m. ready to go," Jones said. "When he sent me an e-mail that night asking for a copy of my social (security card), my ID, and full name and address, I figured this was for real and that's when I started to get excited."
Jones said he will never forget his experience on May 9. He was so excited, he thinks he may have told around 100 people between the time he hung up the phone and when he left for the White House the following morning. Once he was at the gym, he took pictures with his blackberry to prove to friends and family that it was real.
"The coolest thing about the whole situation was THEY thanked US for coming out to play," Jones said. "Obviously, they barely have any free time as it is and I guess it's hard for them to find some guys on such short notice so they were happy to get a good run in. They told us that in a few weeks, when they could fit another game in, they would have us back."
Jones is in Washington, D.C., and teaching sixth grade at the middle school at St. John's College High School, which is where he and his father are graduates. He coaches the freshman junior varsity team and was an assistant with the varsity at St. John's this past season. He guided the freshmen to a record of 18-3 in his first season. He also operates a basketball skills and development academy named Basketball Jones. He currently has more than 40 kids enrolled with the academy.
Jones ranks 15th on Hamilton's all-time list with 1,308 points. He scored 349 as a freshman at Clarkson University and tallied the remaining 959 with the Continentals from 2004 to 2007. He was selected a Liberty League co-Rookie of the Year and made second team all-league in 2004. He made the first team all three seasons at Hamilton. As a junior, he helped the Continentals post an overall record of 23-5 in 2005-06, and the team advanced to the second round of the 2006 NCAA tournament.