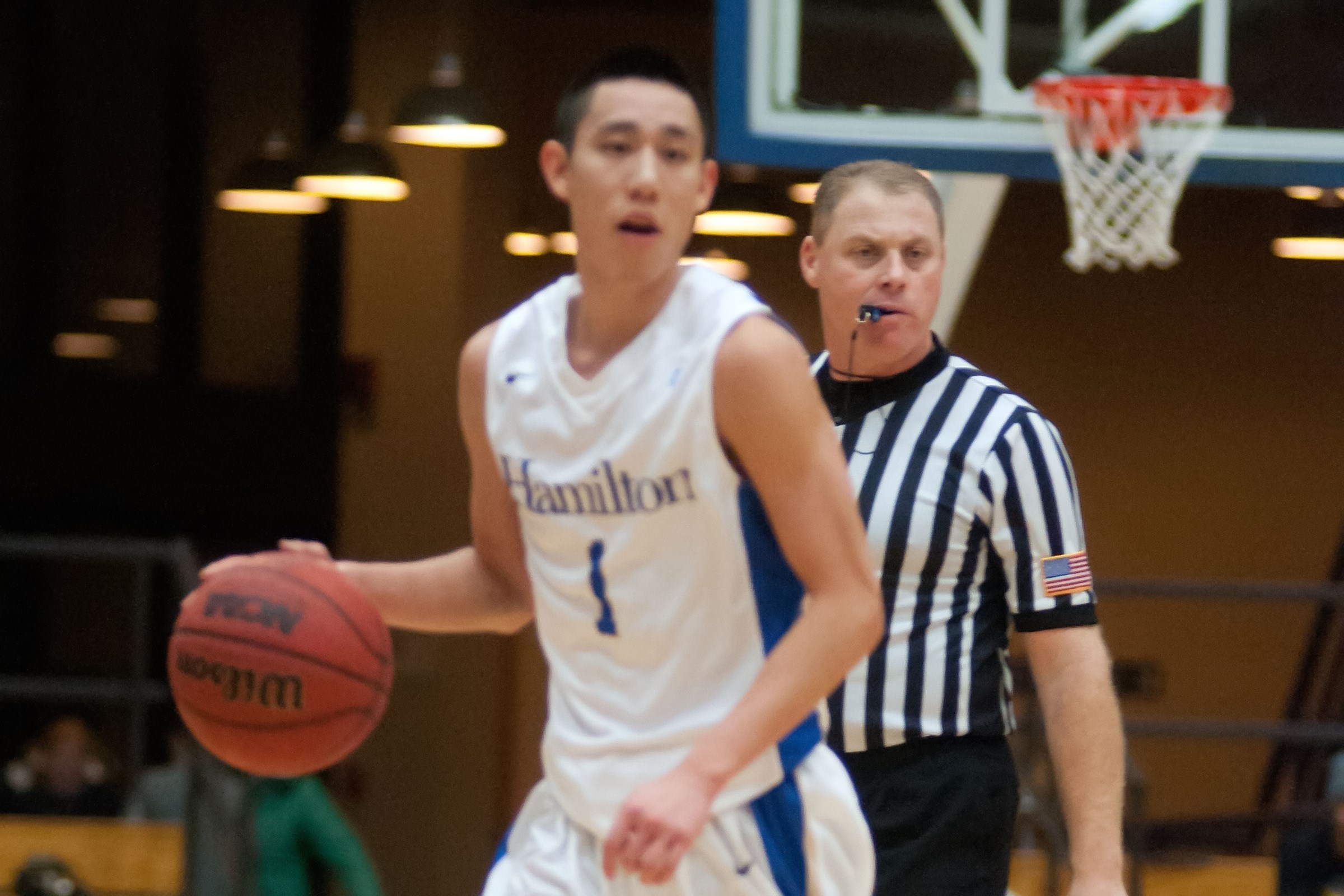 The Hamilton College men's basketball team closed out the 2014 portion of its schedule with a 76-54 non-conference win over host Ithaca College on Tuesday.

Box Score

The Continentals (8-2) snapped a two-game losing streak with their most lopsided victory of the season. Hamilton's 20 assists and nine 3-point baskets were season-high totals.

Joseph Lin '15 recorded his first career double-double for Hamilton, leading all players with 19 points and a career-best 11 assists. Lin, who was making his first start of the season, posted the highest single-game assist total by a Continental since Jay Simpson '10 collected 12 against Union College on Jan. 5, 2010.

Lin scored 17 second-half points – making six of 10 shots from the floor and converting four of five free-throw attempts – as Hamilton pulled away from a 14-point halftime lead. Peter Kazickas '15 poured in 15 of his 18 points in the opening period.

Hamilton outscored the Bombers 23-9 to close out the half, with Kazickas scoring eight of Hamilton's points. Ithaca (2-6) never led but tied the score at 14-all on a 3-point basket by Joe Masino '17 that capped an 8-0 run. The Continentals led 37-23 at the break. Hamilton's advantage fluctuated between seven and the final 22-point margin in the second half.

Marc Chasin '18 led the hosts with 16 points, scoring 13 after intermission. He added team-leading totals of six assists and two steals. No other Bomber reached double digits in scoring. Keefe Getto '15 scored nine points and pulled down a game-high nine rebounds.

Hamilton's Jack Donnelly '16 scored 11 points and Ajani Santos '16 finished with seven points, three blocked shots and a career-best seven steals.

The Continentals have won 22 out of the last 23 meetings and now lead the all-time series, 26-17. Tuesday's game was the first between the two teams since the 1994-95 season.

The Continentals' first action of the new year will be a 6 p.m. non-league game at D'Youville College on Friday, Jan. 2. Ithaca plays an Empire 8 Conference game at Elmira College that night.