Men's basketball bests Bates, evens NESCAC record
---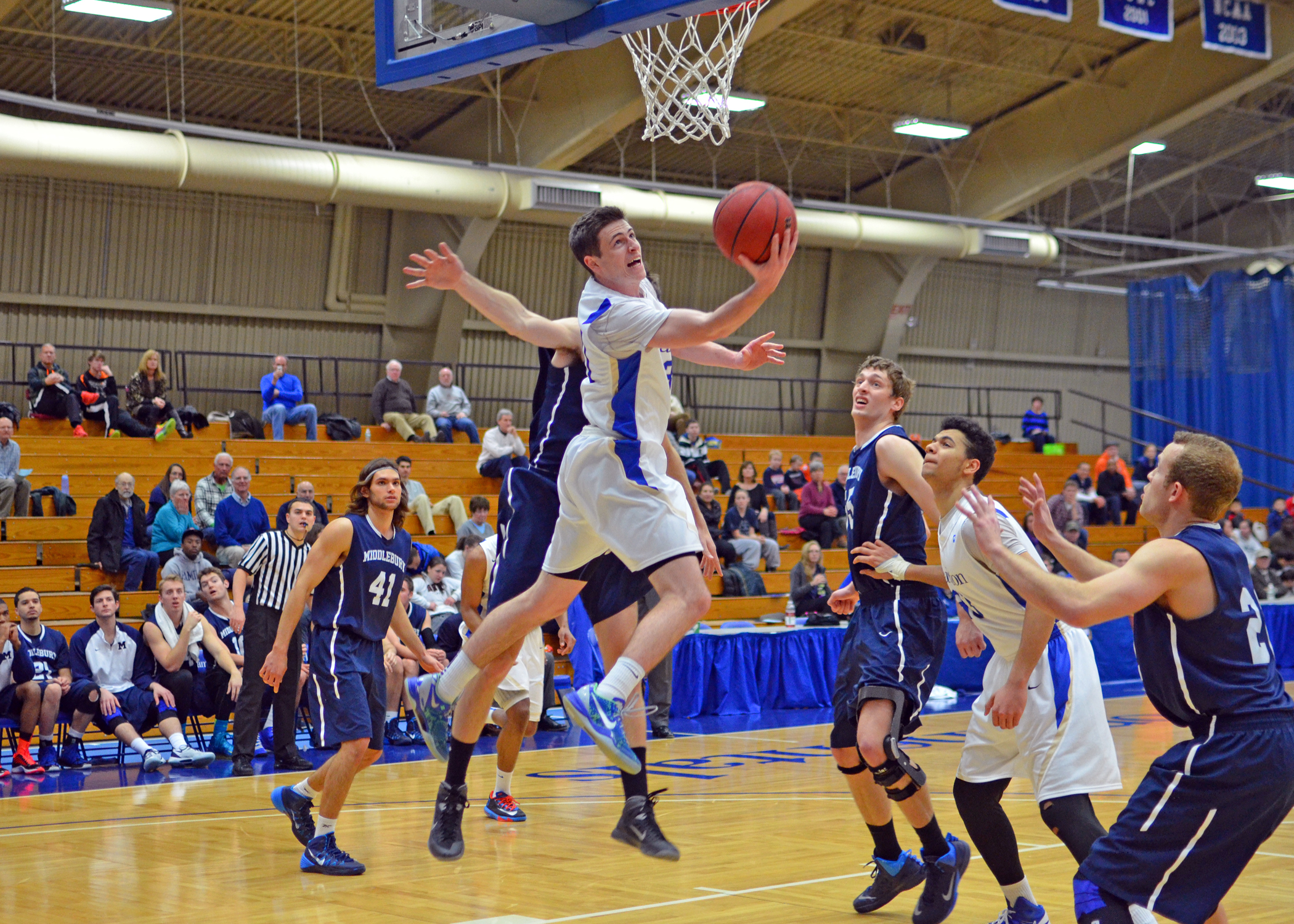 The Hamilton College Continentals shot 53.6 percent from the floor and cruised to an 88-64 NESCAC win against the Bates College Bobcats at Hamilton's Margaret Bundy Scott Field House on Feb. 8.

Box Score

Easy home wins have been hard to come by lately for the Continentals, who won their previous three games at Scott Field House by two points each. Hamilton (13-9, 4-4 NESCAC) extended its current win streak to four games.

Matt Hart '16, who leads the NESCAC in scoring at 20.8 points per game, had a game-high 17 to go with five assists for the Continentals. Peter Kazickas '15 made all seven of his shot attempts and finished with 15 points off the bench.

Ajani Santos '16 dropped in 13 points, and Greg Newton '14 added 11 points and seven assists in his final Hamilton home game. Bradley Gifford '15 grabbed nine rebounds and was credited with three steals. The Continentals made 7 of 17 shots from 3-point range and held a 39-38 edge on the glass.

Luke Matarazzo '14 and Mike Boornazian '16 paced Bates with 16 points apiece. Boornazian also pulled down nine boards, Graham Safford '15 added eight points and Billy Selmon '15 had three steals. The Bobcats shot just 35 percent (21-60) from the field.

Much of the first half was tightly contested as there were four ties and neither team led by more than seven points for the first 17 minutes. Bates (11-11, 1-7) was within 32-30 with 5:41 left when Malcolm Delpeche '17 made a layup.

Hamilton proceeded to end the half with a 13-1 run and the Continentals kept their double-digit lead for the entire second half. Newton started the spurt with a jumper and, after a free throw by Safford, Hart made a basket and Santos added two more buckets. Newton drained a 3-pointer and Kazickas gave Hamilton a 45-31 advantage at the break with a layup. The Continentals shot 60 percent (21-35) from the floor in the first 20 minutes.

Hamilton's lead ranged from 12 to 26 points in the second half. A Newton layup with two minutes remaining gave the Continentals an 88-62 cushion. Hamilton leads the all-time series with the Bobcats, 10-2.

The Continentals travel to Wesleyan University for another NESCAC game on Friday, Feb. 14. Bates hosts Bowdoin College for more conference action on Friday.