Men's basketball breezes to eighth straight win
---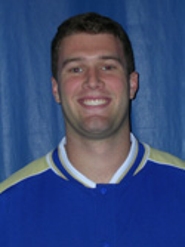 Hamilton College improved to 8-0 for the first time since 2005-06 with a 94-56 rout of Cazenovia College in a non-conference men's basketball game at Hamilton's Margaret Bundy Scott Field House on Dec. 4.

The Continentals were playing their third game in four days. Hamilton's goes back on the road to face nationally ranked No. 12 University of Rochester for another non-conference game on Wednesday, Dec. 7.

Pat Sullivan '12 paced the Continentals with 21 points and eight rebounds in just 23 minutes. Sullivan moved into 21st place on the team's all-time list with 1,180 career points.

Hans Schulte '13 chipped in 12 points and five assists for Hamilton. Peter Kazickas '15 dropped in a season-high 12 points off the bench. Ephraim McDowell '12 -- in his second game back from a foot injury that sidelined him for the first six contests -- nailed three 3-pointers and finished with nine points. Matt Magruder '15 added nine points and Joseph Lin '15 handed out a season-high eight assists. The 5-foot, 11-inch Lin also blocked two shots.

Anthony Wilkerson '13 paced Cazenovia (3-4 overall) with 21 points before he fouled out late in the second half. Matt Perry '13 recorded 10 points and Dieter Clauess '14 had eight. Robert Rohrig '13 led the Wildcats with five rebounds and two blocked shots.

Schulte scored on a layup off the opening tip and the Continentals never trailed. Hamilton jumped out to an 11-3 lead just 3 minutes, 28 seconds into the first half, and pushed its lead to 16 points at 28-12 with 11:08 left.

Cazenovia pulled within single digits for the last time at 30-21 on a free throw by Brad LeFevre '15 with 8:04 remaining. But the Continentals went on a 10-1 run to go up 40-22 with 5:17 left. Hamilton enjoyed a 46-32 cushion at the half.

The Continentals opened the second half with a 12-2 run and controlled the final 20 minutes. The lead ballooned to as many as 41 points twice in the final three minutes.

Hamilton shot 48.6 percent from the field, including 10 of 25 (40 percent) from 3-point range. The Continentals held a 46-25 advantage in rebounds. The Wildcats shot just 33.3 percent from the floor, including 2 of 13 (15.4 percent) from long range.

The 94 points for Hamilton are the most for the Continentals since they defeated Mount Saint Vincent 107-93 on Nov. 21, 2008. Hamilton has won all four meetings against Cazenovia.

The Wildcats host Wells College on Wednesday in NEAC action.