Men's basketball catches Colby for NESCAC win
---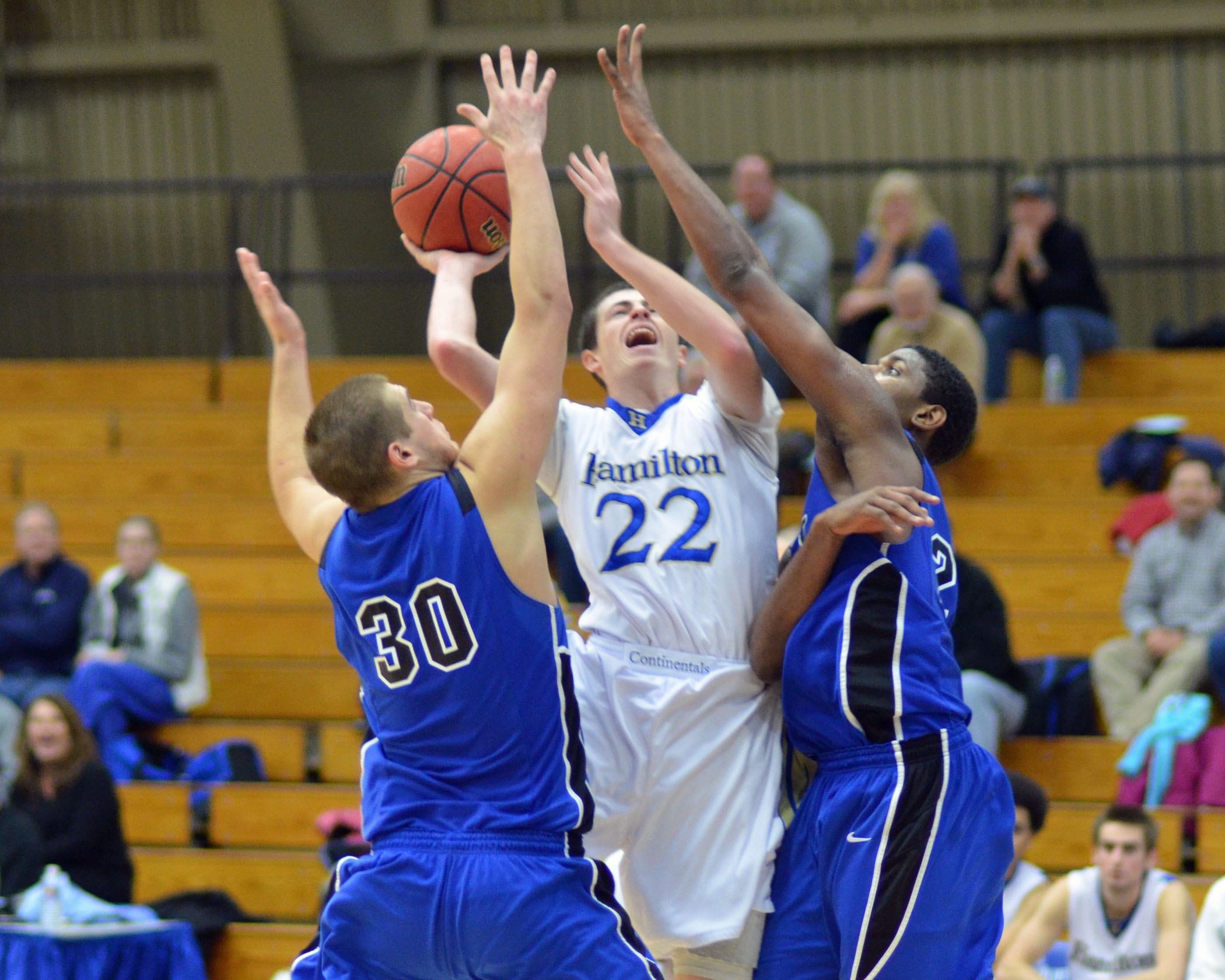 Hamilton College's Matt Hart '16 scored 18 of his 20 points in the second half and the Continentals rallied for a 70-57 NESCAC win against the Colby College Mules at Hamilton's Margaret Bundy Scott Field House on Jan. 17.

Box Score

Greg Newton '14 chipped in 16 points, six assists and four steals for the Continentals. Bradley Gifford '15, who leads the team with 8.5 rebounds per game, grabbed eight. Joseph Lin '15 was credited with three of Hamilton's 12 steals, which helped lead to 20 Colby turnovers. The Continentals shot 60 percent (15-25) from the field in the second half and made more free throws (21) than the Mules attempted (12).

Colby's Chris Hudnut '16 dropped in a game-high 22 points and added six rebounds and four assists. Ryan Jann '16 recorded 18 points and eight boards.

Hamilton (8-7, 1-2 NESCAC) jumped out to a 14-2 lead a little more than five minutes into the first half. The Mules roared back and tied the score at 19-19 on a 3-pointer by Shane Rogers '15 with 7:21 left. Neither team led by more than two points the rest of the half, and a jumper by Hudnut with 48 seconds remaining gave Colby a 26-25 edge at the break.

The Mules (7-6, 1-2) looked as if they might pull away early in the second half. Back-to-back 3-pointers by Jann and a three-point play by Hudnut gave Colby its largest lead of the night at 35-27 with 18:40 to go.

The Continentals pecked away at the Mules' cushion and a 3-pointer by Hart tied the score at 40-40 with 14:03 left. The score was tied three more times until a three-point play by Hart put Hamilton in the lead for good at 52-49 with 9:37 remaining. It was also part of a 12-2 run that turned a 49-47 deficit into a 59-51 lead for the Continentals. Hart scored eight points during the spurt, including another trifecta that capped the run with 7:18 to go.

Colby didn't get closer than six points the rest of the night, and Hamilton's 13-point margin of victory represented its largest lead. The Continentals held the Mules without a basket the final six minutes.

Hamilton's win evened the all-time series at six victories apiece between the two programs. Hart, who fouled out with three minutes left, is averaging 19.8 points per game.

The Continentals host nationally ranked No. 19 Bowdoin College for another NESCAC game on Saturday, Jan. 18. Colby travels to Williams College for more conference action on Saturday.