Men's basketball clinches playoff spot
---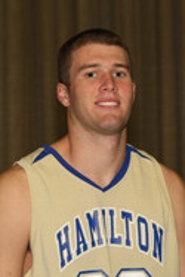 Hamilton College clinched a spot in the Liberty League championship tournament with a 76-62 win against visiting Clarkson University at Scott Field House on Feb. 13.
It will be the 35th straight postseason appearance for the Continentals, who have secured themselves the No. 1 or No. 2 seed. The win sets up a Feb. 14 league showdown with St. Lawrence University at Scott Field House for Hamilton's Senior Day. The Saints sit atop the league standings with their 10-1 record.
Hamilton improved to 15-5 overall and 9-1 in the league. Patrick Sullivan '12 led Hamilton with 14 points and three assists. Harlee Wood '09 and Jay Simpson '10 each contributed 12 points and Lance Wilson '11 added 11 off the bench.
Hamilton jumped out to a 13-2 lead and never trailed. Sullivan scored the first two buckets and assisted on the next two -- a Wood three-pointer and a Tim Shaw '10 jumper.
Hamilton's largest lead of the first half came on a jumper by Jon Ciriello '11 for a 41-28 halftime advantage. Ciriello finished the game with seven points, six rebounds, two assists and two blocks. Hamilton outrebounded Clarkson 43-26.
Clarkson (13-9, 4-7) cut the Hamilton lead to eight at 50-42 with 12:16 left in the second half. Hamilton then reeled off 13 straight points for a game-high 21-point cushion. The Continentals held a double-digit lead the rest of the game.
Hamilton shot 49 percent from the floor and made 6-of-11 attempts from beyond the arc (55 percent). The Continentals limited Clarkson to just 39 percent accuracy.